I've been super bad at reading lately, but that doesn't keep me from fantasizing about new books coming out this fall and making questionable decisions at the library. There are some super cool genre bending books coming out that are very interesting to me, some comics, and let's not forget the new Lauren Groff. If that were even possible. Without further ado, here are the books I'm most looking forward to getting my hands on this fall!
Signs Preceding the End of the World
by Yuri Herrera
"

Traversing this lonely territory is Makina, a young woman who knows only too well how to survive in a violent, macho world. Leaving behind her life in Mexico to search for her brother, she is smuggled into the USA carrying a pair of secret messages – one from her mother and one from the Mexican underworld

In this grippingly original novel Yuri Herrera explores the actual and psychological crossings and translations people make—with their feet, in their minds, and in their language as they move from one country to another, especially when there's no going back."
You Too Can Have a Body Like Mine
by Alexandra Kleeman
"A woman known only as A lives in an unnamed American city with her roommate, B, and boyfriend, C, who wants her to join him on a reality dating show called That's My Partner! A eats mostly popsicles and oranges, watches endless amounts of television, often just for the commercials— particularly the recurring cartoon escapades of Kandy Kat, the mascot for an entirely chemical dessert—and models herself on a standard of beauty that exists only in such advertising. She fixates on the fifteen minutes of fame a local celebrity named Michael has earned after buying up a Wally's Supermarket's entire, and increasingly ample, supply of veal.

Meanwhile, B is attempting to make herself a twin of A, who in turn hungers for something to give meaning to her life, something aside from C's pornography addiction. Maybe something like what's gotten into her neighbors across the street, the family who's begun "ghosting" themselves beneath white sheets and whose garage door features a strange scrawl of graffiti: he who sits next to me, may we eat as one."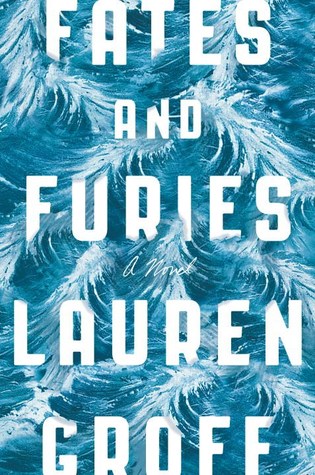 Fates and Furies
by Lauren Groff
"Every story has two sides. Every relationship has two perspectives. And sometimes, it turns out, the key to a great marriage is not its truths but its secrets. At the core of this rich, expansive, layered novel, Lauren Groff presents the story of one such marriage over the course of twenty-four years.

At age twenty-two, Lotto and Mathilde are tall, glamorous, madly in love, and destined for greatness. A decade later, their marriage is still the envy of their friends, but with an electric thrill we understand that things are even more complicated and remarkable than they have seemed.

"
The Wake
by Paul Kingsnorth
"

In the aftermath of the Norman Invasion of 1066, William the Conqueror was uncompromising and brutal. English society was broken apart, its systems turned on their head. What is little known is that a fractured network of guerrilla fighters took up arms against the French occupiers.


In The Wake, a postapocalyptic novel set a thousand years in the past, Paul Kingsnorth brings this dire scenario back to us through the eyes of the unforgettable Buccmaster, a proud landowner bearing witness to the end of his world. Accompanied by a band of like-minded men, Buccmaster is determined to seek revenge on the invaders. But as the men travel across the scorched English landscape, Buccmaster becomes increasingly unhinged by the immensity of his loss, and their path forward becomes increasingly unclear.

Written in what the author describes as "a shadow tongue"—a version of Old English updated so as to be understandable to the modern reader—The Wake renders the inner life of an Anglo-Saxon man with an accuracy and immediacy rare in historical fiction."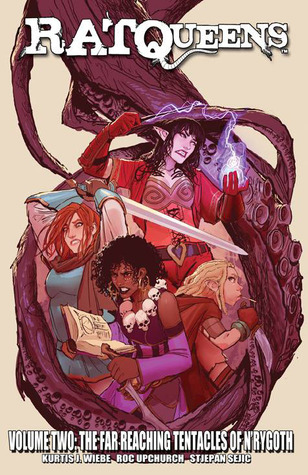 Rat Queens, Vol. 2
by Kurtis J. Wiebe
"

This booze-soaked second volume of RAT QUEENS reveals a growing menace within the very walls of Palisade. And while Dee may have run from her past, the bloated, blood-feasting sky god N'rygoth never really lets his children stray too far.

Collects RAT QUEENS #6-10

"
Slade House
by David Mitchell
"

From "one of the most electric writers alive" (The Boston Globe) comes a taut, intricately woven, spine-chilling, reality-warping short novel. Set across five decades, beginning in 1979 and coming to its electrifying conclusion on October 31, 2015, Slade House is the perfect book to curl up with on a dark and stormy night."
Saga, Vol. 5
by Brian K. Vaughan
"

Multiple storylines collide in this cosmos-spanning new volume. While Gwendolyn and Lying Cat risk everything to find a cure for The Will, Marko makes an uneasy alliance with Prince Robot IV to find their missing children, who are trapped on a strange world with terrifying new enemies. Collects Saga #25-30.

"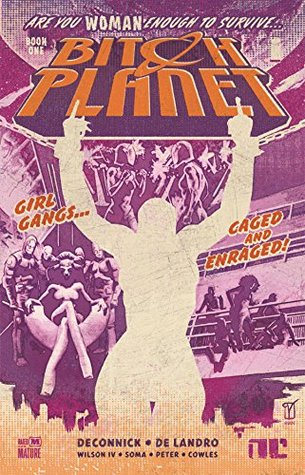 Bitch Planet, Vol. 1
by Kelly Sue DeConnick
"Eisner Award-nominated writer KELLY SUE DeCONNICK (PRETTY DEADLY, Captain Marvel) and VALENTINE DE LANDRO (X-Factor) present the premiere volume of BITCH PLANET, their critically acclaimed and deliciously vicious sci-fi satire. Think Margaret Atwood meets Inglourious Basterds.
Collects BITCH PLANET #1-5."
Not on Fire, but Burning
by Greg Hrbek
"Twenty-year-old Skyler saw the incident out her window: Some sort of metalic object hovering over the Golden Gate Bridge just before it collapsed and a mushroom cloud lifted above the city. Like everyone, she ran, but she couldn't outrun the radiation, with her last thoughts being of her beloved baby brother, Dorian, safe in her distant family home.

Flash forward to a post-incident America, where the country has been broken up into territories and Muslims have been herded onto the old Indian reservations in the west, even though no one has determined who set off the explosion that destroyed San Francisco. Twelve-year old Dorian dreams about killing Muslims and about his sister—even though Dorian's parents insist Skyler never existed. Are they still shell-shocked, trying to put the past behind them . . . or is something more sinister going on?

Meanwhile, across the street, Dorian's neighbor adopts a Muslim orphan from the territories. It will set off a series of increasingly terrifying incidents that will lead to either tragedy or redemption for Dorian, as he struggles to prove that his sister existed—and was killed by a terrorist attack.

"
Scrapper
by Matt Bell
"

Kelly scavenges for scrap metal from the hundred thousand abandoned buildings in a part of Detroit known as "the zone," an increasingly wild landscape where one day he finds something far more valuable than the copper he's come to steal: a kidnapped boy, crying out for rescue. Briefly celebrated as a hero, Kelly secretly takes on the responsibility of avenging the boy's unsolved kidnapping, a task that will take him deeper into the zone and into a confrontation with his own past, his long-buried trauma, memories made dangerous again.

"
What books are you looking forward to reading this fall?