BEA really surprised me in how many books they had that I'd never heard of.
I consider myself someone who tries to stay pretty up to date with what's going on in bookland, but clearly I am NOT WORKING HARD ENOUGH. I'm kidding, I'm kidding. It was truly a delight to be surprised by the list of galleys beforehand and then surprised again by a number of titles on the exhibit floor. I went ahead and sorted these ten interesting books by release date, so you can know how soon to pull out your wallets. These upcoming books sound SO GOOD.
Autumn Princess, Dragon Child by Lian Hearn
June 7, 2016
ADD TO GOODREADS
Book two in the Tales of Shikanoko series. FSG has been doing interesting fast-tracked publishing (the Area X trilogy by Jeff VanderMeer, for example), and I'm intrigued. All of the 4 books in this historical fantasy series will be published before 2016 is done. I'm reading the first book, Emperor of the Eight Islands now and it's a complicated tale set in a mythical, medieval Japan. I'm pretty down for that. We'll see if it gives me the Game of Thrones-y dramatic saga I'm craving.
So Much For That Winter by Dorthe Nors
June 21, 2016
ADD TO GOODREADS
I'm obsessed with Dorthe Nors. Her writing blew me away in her short story collection, Karate Chop. So Much For That Winter is two novellas, and I'm excited to see what she does in a slightly longer format. Though this is still a tiny-ass book. In one, a woman records her life in a series of lists. The other is told in headlines, telling us the story of a performer after they're dumped via text message. "So Much for That Winter explores how we shape and understand experience, and the disconnection and dislocation that define our twenty-first-century lives, with Nors's unique wit and humor." SIGN ME UP.
Underground Airlines by Ben H. Winters
July 5, 2016
ADD TO GOODREADS
"It is the present-day, and the world is as we know it: smartphones, social networking and Happy Meals. Save for one thing: the Civil War never occurred." Whoa. So this could either be really good or really bad. There are 4 states in the US that still have slavery in this alternate reality, which is absolutely horrifying. This might be sort of a thriller or mystery, and I'm already having panic attacks about categorizing it at the bookstore.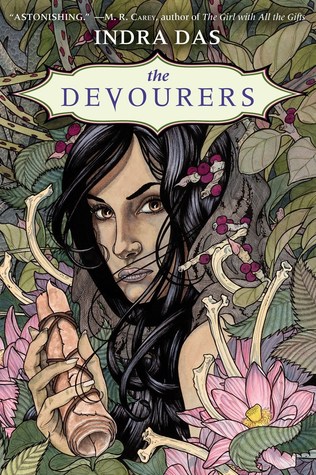 The Devourers by Indra Das
July 12, 2016
ADD TO GOODREADS
I totally happened upon this SF/Fantasy novel by accident and I'm so glad I did. It's based in Indian folklore, is werewolf-y (not specifically my thing, but we'll see how it goes), and it touches on gender, LGBTQ issues, and sexual violence. HI. Everybody who's read it seems to love it. And it's "For readers of Neil Gaiman, Margaret Atwood, China Mieville, and David Mitchell." Pretty sure that's me, hi again.
Textbook Amy Krouse Rosenthal by Amy Krouse Rosenthal
August 9, 2016
ADD TO GOODREADS
This book had by far the most interesting format out of all the books at BEA. If you flip through it, it really doesn't make any sense. It's sort of memoir-y, but split into categories like a textbook, but also there's an interactive texting element. I'm super excited to play around with this book more, and I don't think I've ever said that sentence before.
Ghost Talkers by Mary Robinette Kowal
August 16, 2016
ADD TO GOODREADS
This isn't something I'd typically pick up, but I'm very interested in Mary Robinette Kowal and I'm generally down for ghosts. Another historical fantasy/scifi, in World War I there's a Spirit Corps that uses mediums to pass intelligence from dead troops back to the living. HARDCORE.
Children of the New World: Stories by Alexander Weinstein
September 13, 2016
ADD TO GOODREADS
This sounds like the show Black Mirror except in short story form, so I was pretty immediately sold. "Children of the New World introduces readers to a near-future world of social media implants, memory manufacturers, dangerously immersive virtual reality games, and alarmingly intuitive robots." Hello, yes. There's a story about virtual children and the support groups that exist for when they glitch and get erased?? Dark, I like it.
Sun Moon Earth by Tyler Nordgren
September 13, 2016
ADD TO GOODREADS
Ok, here's the rest of the title: The History of Solar Eclipses from Omens of Doom to Einstein and Exoplanets. One of my many niche book interests is astronomical history. It's a new one, you could have blinked and missed it. Basically it's the history of eclipses and how cultures perceived them over time. They used to be super spooky, then they turned into tourist attractions. I'm sure there's some more depth to it than that. WE'LL HAVE TO READ TO FIND OUT.
Shelter in Place by Alexander Maksik
September 13, 2016
ADD TO GOODREADS
I feel as if I know very little about this book, because nobody actually talked to me about it AND it wasn't actually there. But it was supposed to be, so that counts for something. It's a novel sit in the Pacific Northwest in the 90s. A 20-year-old kid, Joe, starts to deal with symptoms of bipolar disorder and, soon afterward, the incarceration of his mother who just killed a rando with a hammer. Joe starts to hang out with his dad and his new girlf Tess all the time at the bar and at home, while his mother, Anne-Marie, is transformed into a folk hero of sorts. AND THEN "Spurred on by Anne-Marie's example, Tess enlists Joe in a secret, violent plan that will forever change their lives." Sounds like some gritty, raw human stuff.
The Terranauts by T.C. Boyle
October 25, 2016
ADD TO GOODREADS
I've never read T.C. Boyle before, so I don't have that like brand loyalty excitement. This novel just sounds so good. Set in the 1990s, climate change is threatening the earth and scientists are trying to work on potential off earth colonies. So a group of scientists are selected to live in a prototype of this fake bubble world with five different biomes. Nothing and nobody is allowed in or out. Obviously some shit is going to go down. Are all of his books this interesting??
What BEA pick do you find most interesting? Anything that wasn't on this list?