I tried to narrow this down to ten. I really really tried. It just didn't happen. I started at 25 and every tab that I closed was a miniature heartbreak. Other 2015 books, I still want to read you!! And I will!! It just might take me a while. My reading sort of came to a screeching halt at the second half of the year, so I feel like I missed out on a lot of new releases. Thankfully, I own most of these books or I already have them on hold at the library. Get your TBR list ready, because there was a lot going on in 2015.
Hold Still by Sally Mann
"

A revealing and beautifully written memoir and family history from acclaimed photographer Sally Mann.

In this groundbreaking book, a unique interplay of narrative and image, Mann's preoccupation with family, race, mortality, and the storied landscape of the American South are revealed as almost genetically predetermined, written into her DNA by the family history that precedes her.

Sorting through boxes of family papers and yellowed photographs she finds more than she bargained for: "deceit and scandal, alcohol, domestic abuse, car crashes, bogeymen, clandestine affairs, dearly loved and disputed family land . . . racial complications, vast sums of money made and lost, the return of the prodigal son, and maybe even bloody murder.""
A Head Full of Ghosts by Paul Tremblay
"The lives of the Barretts, a normal suburban New England family, are torn apart when fourteen-year-old Marjorie begins to display signs of acute schizophrenia.

To her parents' despair, the doctors are unable to stop Marjorie's descent into madness. As their stable home devolves into a house of horrors, they reluctantly turn to a local Catholic priest for help. Father Wanderly suggests an exorcism; he believes the vulnerable teenager is the victim of demonic possession. He also contacts a production company that is eager to document the Barretts' plight. With John, Marjorie's father, out of work for more than a year and the medical bills looming, the family agrees to be filmed, and soon find themselves the unwitting stars of The Possession, a hit reality television show. When events in the Barrett household explode in tragedy, the show and the shocking incidents it captures become the stuff of urban legend.

Fifteen years later, a bestselling writer interviews Marjorie's younger sister, Merry. As she recalls those long ago events that took place when she was just eight years old, long-buried secrets and painful memories that clash with what was broadcast on television begin to surface--and a mind-bending tale of psychological horror is unleashed, raising vexing questions about memory and reality, science and religion, and the very nature of evil."
In the Country: Stories by Mia Alvar
"These nine globe-trotting, unforgettable stories from Mia Alvar, a remarkable new literary talent, vividly give voice to the women and men of the Filipino diaspora. Here are exiles, emigrants, and wanderers uprooting their families from the Philippines to begin new lives in the Middle East, the United States, and elsewhere—and, sometimes, turning back again.

A pharmacist living in New York smuggles drugs to his ailing father in Manila, only to discover alarming truths about his family and his past. In Bahrain, a Filipina teacher drawn to a special pupil finds, to her surprise, that she is questioning her own marriage. A college student leans on her brother, a laborer in Saudi Arabia, to support her writing ambitions, without realizing that his is the life truly made for fiction. And in the title story, a journalist and a nurse face an unspeakable trauma amidst the political turmoil of the Philippines in the 1970s and '80s.

"
The Traitor Baru Cormorant
by Seth Dickinson
"

THE TRAITOR BARU CORMORANT is an epic geopolitical fantasy about one woman's mission to tear down an empire by learning how to rule it.

Tomorrow, on the beach, Baru Cormorant will look up from the sand of her home and see red sails on the horizon.

The Empire of Masks is coming, armed with coin and ink, doctrine and compass, soap and lies. They'll conquer Baru's island, rewrite her culture, criminalize her customs, and dispose of one of her fathers. But Baru is patient. She'll swallow her hate, prove her talent, and join the Masquerade. She will learn the secrets of empire. She'll be exactly what they need. And she'll claw her way high enough up the rungs of power to set her people free."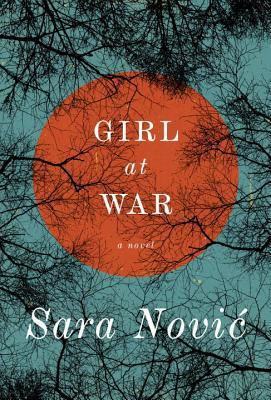 Girl at War by Sara Nović
"

Zagreb, summer of 1991. Ten-year-old Ana Jurić is a carefree tomboy who runs the streets of Croatia's capital with her best friend, Luka, takes care of her baby sister, Rahela, and idolizes her father. But as civil war breaks out across Yugoslavia, soccer games and school lessons are supplanted by sniper fire and air raid drills. When tragedy suddenly strikes, Ana is lost to a world of guerilla warfare and child soldiers; a daring escape plan to America becomes her only chance for survival.

Ten years later Ana is a college student in New York. She's been hiding her past from her boyfriend, her friends, and most especially herself. Haunted by the events that forever changed her family, she returns alone to Croatia, where she must rediscover the place that was once her home and search for the ghosts of those she's lost.

"
Falling in Love with Hominids by Nalo Hopkinson
"

Nalo Hopkinson (Brown Girl in the Ring, Skin Folk) has been widely hailed as a highly significant voice in Caribbean and American fiction. She has been dubbed "one of our most important writers," (Junot Diaz), with "an imagination that most of us would kill for" (Los Angeles Times), and her work has been called "stunning," (New York Times) "rich in voice, humor, and dazzling imagery" (Kirkus), and "simply triumphant" (Dorothy Allison).

Falling in Love with Hominids presents over a dozen years of Hopkinson's new, uncollected fiction, much of which has been unavailable in print. Her singular, vivid tales, which mix the modern with Afro-Carribean folklore, are occupied by creatures unpredictable and strange: chickens that breathe fire, adults who eat children, and spirits that haunt shopping malls."
Haints Stay by Colin Winnette
"An imaginative, acid western from a rising star in the indie lit world.

Brooke and Sugar are killers. Bird is the boy who mysteriously woke beside them while between towns. For miles, there is only desert and wilderness, and along the fringes, people.

The story follows the middling bounty hunters after they've been chased from town, and Bird, each in pursuit of their own sense of belonging and justice. It features gunfights, cannibalism, barroom piano, a transgender birth, a wagon train, a stampede, and the tenuous rise of the West's first one-armed gunslinger."
Speak
by Louisa Hall
"In a narrative that spans geography and time, from the Atlantic Ocean in the seventeenth century, to a correctional institute in Texas in the near future, and told from the perspectives of five very different characters, Speak considers what it means to be human, and what it means to be less than fully alive.

A young Puritan woman travels to the New World with her unwanted new husband. Alan Turing, the renowned mathematician and code breaker, writes letters to his best friend's mother. A Jewish refugee and professor of computer science struggles to reconnect with his increasingly detached wife. An isolated and traumatized young girl exchanges messages with an intelligent software program. A former Silicon Valley Wunderkind is imprisoned for creating illegal lifelike dolls.

Each of these characters is attempting to communicate across gaps — to estranged spouses, lost friends, future readers, or a computer program that may or may not understand them. In dazzling and electrifying prose, Louisa Hall explores how the chasm between computer and human — shrinking rapidly with today's technological advances — echoes the gaps that exist between ordinary people. Though each speaks from a distinct place and moment in time, all five characters share the need to express themselves while simultaneously wondering if they will ever be heard, or understood."
Not on Fire, but Burning
by Greg Hrbek
"Twenty-year-old Skyler saw the incident out her window: Some sort of metalic object hovering over the Golden Gate Bridge just before it collapsed and a mushroom cloud lifted above the city. Like everyone, she ran, but she couldn't outrun the radiation, with her last thoughts being of her beloved baby brother, Dorian, safe in her distant family home.

Flash forward to a post-incident America, where the country has been broken up into territories and Muslims have been herded onto the old Indian reservations in the west, even though no one has determined who set off the explosion that destroyed San Francisco. Twelve-year old Dorian dreams about killing Muslims and about his sister—even though Dorian's parents insist Skyler never existed. Are they still shell-shocked, trying to put the past behind them . . . or is something more sinister going on?

Meanwhile, across the street, Dorian's neighbor adopts a Muslim orphan from the territories. It will set off a series of increasingly terrifying incidents that will lead to either tragedy or redemption for Dorian, as he struggles to prove that his sister existed—and was killed by a terrorist attack.

"
Eileen by Ottessa Moshfegh
"The Christmas season offers little cheer for Eileen Dunlop, an unassuming yet disturbed young woman trapped between her role as her alcoholic father's caretaker in a home whose squalor is the talk of the neighborhood and a day job as a secretary at the boys' prison, filled with its own quotidian horrors. Consumed by resentment and self-loathing, Eileen tempers her dreary days with perverse fantasies and dreams of escaping to the big city. In the meantime, she fills her nights and weekends with shoplifting, stalking a buff prison guard named Randy, and cleaning up her increasingly deranged father's messes. When the bright, beautiful, and cheery Rebecca Saint John arrives on the scene as the new counselor at Moorehead, Eileen is enchanted and proves unable to resist what appears at first to be a miraculously budding friendship. In a Hitchcockian twist, her affection for Rebecca ultimately pulls her into complicity in a crime that surpasses her wildest imaginings.

Played out against the snowy landscape of coastal New England in the days leading up to Christmas, young Eileen's story is told from the gimlet-eyed perspective of the now much older narrator. Creepy, mesmerizing, and sublimely funny, in the tradition of Shirley Jackson and early Vladimir Nabokov, this powerful debut novel enthralls and shocks, and introduces one of the most original new voices in contemporary literature."
The Dead Ladies Project by Jessa Crispin
"When Jessa Crispin was thirty, she burned her settled Chicago life to the ground and took off for Berlin with a pair of suitcases and no plan beyond leaving. Half a decade later, she's still on the road, in search not so much of a home as of understanding, a way of being in the world that demands neither constant struggle nor complete surrender.

The Dead Ladies Project is an account of that journey—but it's also much, much more. Fascinated by exile, Crispin travels an itinerary of key locations in its literary map, of places that have drawn writers who needed to break free from their origins and start afresh. As she reflects on William James struggling through despair in Berlin, Nora Barnacle dependant on and dependable for James Joyce in Trieste, Maud Gonne fomenting revolution and fostering myth in Dublin, or Igor Stravinsky starting over from nothing in Switzerland, Crispin interweaves biography, incisive literary analysis, and personal experience into a rich meditation on the complicated interactions of place, personality, and society that can make escape and reinvention such an attractive, even intoxicating proposition."
Counternarratives by John Keene
"Conjuring slavery and witchcraft, and with bewitching powers all its own, Counternarratives continually spins history—and storytelling—on its head

Ranging from the 17th century to the present and crossing multiple continents, Counternarrative's novellas and stories draw upon memoirs, newspaper accounts, detective stories, interrogation transcripts, and speculative fiction to create new and strange perspectives on our past and present. In "Rivers," a free Jim meets up decades later with his former raftmate Huckleberry Finn; "An Outtake" chronicles an escaped slave's fate in the American Revolution; "On Brazil, or Dénouement" burrows deep into slavery and sorcery in early colonial South America; and in "Blues" the great poets Langston Hughes and Xavier Villaurrutia meet in Depression-era New York and share more than secrets."
The Boys by Toni Sala
"In the once-bucolic village of Vidreres, already decimated by a harsh recession, two young men have just died in a horrible car crash. As the town attends the funeral, a banker named Ernest heads to the tree where the boys died to try and make sense of what happened. There he meets a brutish trucker who has taken a liking to Iona, the fiancée of one of the dead boys. But Iona is already, only the day after the accident, being pursued by a failed, perhaps psychotic, artist. These four characters, their lives and voices intertwined, grapple with their own guilt over the unfathomable loss of the boys, and perhaps their whole town.

Long known as one of Spain's most powerful Catalan authors, Toni Sala is at his mischievous best in The Boys, delivering a sinister, fast-moving tale laced with intricate meditations on everything from Internet hookups to Spain's economic collapse to the incomprehensibility of death. Sala offers us a startlingly honest vision of how alone we are in an age of unparalleled connectivity."
Have you read any of these books already? What books did you mean to read in 2015?