Because I'm a difficult person, I give my family a very specific list of books that I will accept as gifts during the holiday/birthday season. I just don't trust like that, you know?

Also, this year I'm implementing the Icelandic "Christmas book flood" tradition and exchanging books on Christmas Eve. Then we'll spend the entire day/night reading! Except for when we're watching Blair Witch Project. Can't break that tradition. Anyway. Here are the books that I'll allow my loved ones to buy for me this year!!

Side note: Be on the look out for a few "best of" posts coming out from me soon! Best books of 2015 will be posted Christmas Eve. GET HYPED.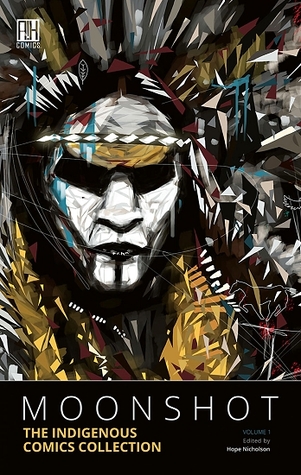 Moonshot by Hope Nicholson
MOONSHOT brings together dozens of creators from across North America to contribute comic book stories showcasing the rich heritage and identity of indigenous storytelling.

From traditional stories to exciting new visions of the future, this collection presents some of the finest comic book and graphic novel work in North America. The traditional stories presented in the book are with the permission from the elders in their respective communities, making this a truly genuine, never-before-seen publication. MOONSHOT is an incredible collection that is sure to amaze, intrigue and entertain!"
The Complete Stories by Clarice Lispector
"The recent publication by New Directions of five Lispector novels revealed to legions of new readers her darkness and dazzle.

Now, for the first time in English, are all the stories that made her a Brazilian legend: from teenagers coming into awareness of their sexual and artistic powers to humdrum housewives whose lives are shattered by unexpected epiphanies to old people who don't know what to do with themselves. Lispector's stories take us through their lives—and ours. From one of the greatest modern writers, these stories, gathered from the nine collections published during her lifetime, follow an unbroken time line of success as a writer, from her adolescence to her death bed."
Who Fears Death by Nnedi Okorafor
"In a far future, post-nuclear-holocaust Africa, genocide plagues one region. The aggressors, the Nuru, have decided to follow the Great Book and exterminate the Okeke. But when the only surviving member of a slain Okeke village is brutally raped, she manages to escape, wandering farther into the desert. She gives birth to a baby girl with hair and skin the color of sand and instinctively knows that her daughter is different. She names her daughter Onyesonwu, which means "Who Fears Death?" in an ancient African tongue.

Reared under the tutelage of a mysterious and traditional shaman, Onyesonwu discovers her magical destiny--to end the genocide of her people. The journey to fulfill her destiny will force her to grapple with nature, tradition, history, true love, the spiritual mysteries of her culture-and eventually death itself."
Women in Clothes by Sheila Heti
Women in Clothes is a book unlike any other. It is essentially a conversation among hundreds of women of all nationalities—famous, anonymous, religious, secular, married, single, young, old—on the subject of clothing, and how the garments we put on every day define and shape our lives.

Even our most basic clothing choices can give us confidence, show the connection between our appearance and our habits of mind, express our values and our politics, bond us with our friends, or function as armor or disguise. They are the tools we use to reinvent ourselves and to transform how others see us. Women in Clothes embraces the complexity of women's style decisions, revealing the sometimes funny, sometimes strange, always thoughtful impulses that influence our daily ritual of getting dressed."
A Stranger in Olondria by Sofia Samatar
"

Jevick, the pepper merchant's son, has been raised on stories of Olondria, a distant land where books are as common as they are rare in his home. When his father dies and Jevick takes his place on the yearly selling trip to Olondria, Jevick's life is as close to perfect as he can imagine. But just as he revels in Olondria's Rabelaisian Feast of Birds, he is pulled drastically off course and becomes haunted by the ghost of an illiterate young girl.

In desperation, Jevick seeks the aid of Olondrian priests and quickly becomes a pawn in the struggle between the empire's two most powerful cults. Yet even as the country shimmers on the cusp of war, he must face his ghost and learn her story before he has any chance of becoming free by setting her free: an ordeal that challenges his understanding of art and life, home and exile, and the limits of that seductive necromancy, reading.

"
The Night Guest by Fiona McFarlane
"

Ruth is widowed, her sons are grown, and she lives in an isolated beach house outside of town. Her routines are few and small. One day a stranger arrives at her door, looking as if she has been blown in from the sea. This woman—Frida—claims to be a care worker sent by the government. Ruth lets her in.





Now that Frida is in her house, is Ruth right to fear the tiger she hears on the prowl at night, far from its jungle habitat? Why do memories of childhood in Fiji press upon her with increasing urgency? How far can she trust this mysterious woman, Frida, who seems to carry with her her own troubled past? And how far can Ruth trust herself?

"
North American Lake Monsters by Nathan Ballingrud
"Nathan Ballingrud's Shirley Jackson Award winning debut collection is a shattering and luminous experience not to be missed by those who love to explore the darker parts of the human psyche. Monsters, real and imagined, external and internal, are the subject. They are us and we are them and Ballingrud's intense focus makes these stories incredibly intense and irresistible.

These are love stories. And also monster stories. Sometimes these are monsters in their traditional guises, sometimes they wear the faces of parents, lovers, or ourselves. The often working-class people in these stories are driven to extremes by love. Sometimes, they are ruined; sometimes redeemed. All are faced with the loneliest corners of themselves and strive to find an escape."
Justine by Lawrence Durrell
"

The time is the eve of the World War II. The place is Alexandria, an Egyptian city that once housed the world's greatest library and whose inhabitants are dedicated to knowledge. But for the obsessed characters in this mesmerizing novel, their pursuits lead only to bedrooms in which each seeks to know—and possess—the other. Since its publication in 1957, Justine has inspired an almost religious devotion among readers and critics alike.

"
Three Scenarios in Which Hana Sasaki Grows a Tail by Kelly Luce
"

Three Scenarios in Which Hana Sasaki Grows a Tail is a debut collection of stories from Kelly Luce. Hana Sasaki will introduce you to many things—among them, an oracular toaster, a woman who grows a tail, and an extraordinary sex-change operation. Set in Japan, these stories tip into the fantastical, plumb the power of memory, and measure the human capacity to love.

"
A Field Guide to the Aliens of Star Trek The Next Generation: Season 2
by Joshua Chapman
"

A new project from Joshua Chapman, 8th grader. He really doesn't like Counselor Troi, humans who get too cocky, bullies, or living with his mom.

"
What books are you hoping you find under the tree?