Oh man, I had to do some research for this one. Right now I'm kind of just catching up on reading the things from 2014 that I didn't get to, so I hadn't thought much of new books coming out. I'm glad I looked into it, though, because this stuff looks gooooood. All summaries are from the publishers! If any of these aren't actually debut novels, it's because I'm bad at doing research. I tried.
The First Bad Man by Miranda July (January 13)
Miranda July is perfect.
"
Here is Cheryl, a tightly-wound, vulnerable woman who lives alone, with a perpetual lump in her throat. She is haunted by a baby boy she met when she was six, who sometimes recurs as other people's babies. Cheryl is also obsessed with Phillip, a philandering board member at the women's self-defense non-profit where she works. She believes they've been making love for many lifetimes, though they have yet to consummate in this one.

When Cheryl's bosses ask if their twenty-one-year-old daughter Clee can move into her house for a little while, Cheryl's eccentrically-ordered world explodes. And yet it is Clee--the selfish, cruel blond bombshell--who bullies Cheryl into reality and, unexpectedly, provides her the love of a lifetime."
The Unquiet Dead by Ausma Zehanat Khan (January 13)
"
Despite their many differences, Detective Rachel Getty trusts her boss, Esa Khattak, implicitly. But she's still uneasy at Khattak's tight-lipped secrecy when he asks her to look into Christopher Drayton's death. Drayton's apparently accidental fall from a cliff doesn't seem to warrant a police investigation, particularly not from Rachel and Khattak's team, which handles minority-sensitive cases. But when she learns that Drayton may have been living under an assumed name, Rachel begins to understand why Khattak is tip-toeing around this case. It soon comes to light that Drayton may have been a war criminal with ties to the Srebrenica massacre of 1995."
Weathering by Lucy Wood (January 15)
Author of The Diving Belles!
"
Pearl doesn't know how she's ended up in the river - the same messy, cacophonous river in the same rain-soaked valley she'd been stuck in for years. Or why, for that matter, she'd been stupid enough to fall down those rickety stairs.

Ada, Pearl's daughter, doesn't know how she's ended up back in the house she left thirteen years ago - with no heating apart from a fire she can't light, no way of getting around apart from an old car she's scared to drive, and no company apart from echoing footsteps on the damp floorboards. With her daughter Pepper, she starts to sort through Pearl's things, clearing the house so she can leave and not look back.

Pepper has grown used to following her restless mother from place to place, but this house, with its faded photographs, its boxes of cameras and its stuffed jackdaw, is something new. Fascinated by the scattering of people she meets, by the river that unfurls through the valley, and by the strange old woman who sits on the bank with her feet in the cold, coppery water, Pepper doesn't know why anyone would ever want to leave.

As the first frosts of autumn herald the coming of a long winter and Pepper and Ada find themselves irresistibly entangled with the life of the valley, each will discover the ways that places can take root inside us and bind us together."
The Sasquatch Hunter's Almanac by Sharma Shields (January 27)
"

Eli Roebuck was nine years old when his mother walked off into the woods with "Mr. Krantz," a large, strange, hairy man who may or may not be a sasquatch. What Eli knows for certain is that his mother went willingly, leaving her only son behind. For the rest of his life, Eli is obsessed with the hunt for the bizarre creature his mother chose over him, and we watch it affect every relationship he has in his long life--with his father, with both of his wives, his children, grandchildren, and colleagues. We follow all of the Roebuck family members, witnessing through each of them the painful, isolating effects of Eli's maniacal hunt, and find that each Roebuck is battling a monster of his or her own, sometimes literally. The magical world Shields has created is one of unicorns and lake monsters, ghosts and reincarnations, tricksters and hexes. At times charming, as when young Eli meets the eccentric, extraordinary Mr. Krantz, and downright horrifying at others, The Sasquatch Hunter's Almanac is boldly imaginative throughout, and proves to be a devastatingly real portrait of the demons that we as human beings all face."
Of Things Gone Astray by Janina Matthewson (February 3)
"
On a seemingly normal morning in London, a group of people all lose something dear to them, something dear but peculiar: the front of their house, their piano keys, their sense of direction, their place of work.

Meanwhile, Jake, a young boy whose father brings him to London following his mother's sudden death in an earthquake, finds himself strangely attracted to other people's lost things. But little does he realise that his most valuable possession, his relationship with his dad, is slipping away from him. Of Things Gone Astray is a magical fable about modern life and values."
City of Savages by Lee Kelly (February 3)
"
It's been nearly two decades since the Red Allies first attacked New York, and Manhattan is now a prisoner-of-war camp, ruled by Warden Rolladin and her brutal, impulsive warlords. For 17-year-old Skyler Miller, Manhattan is a cage that keeps her from the world beyond the city's borders. But for Sky's 16-year-old sister, Phee, the P.O.W. camp is a dangerous playground of possibility, and the only home she'd ever want.

When Sky and Phee discover their mom's hidden journal from the outbreak of the war, they both realize there's more to Manhattan—and their mother—than either of them had ever imagined. And after a group of strangers arrives at the annual P.O.W. census, the girls begin to uncover the island's long-kept secrets. The strangers hail from England, a country supposedly destroyed by the Red Allies, and Rolladin's lies about Manhattan's captivity begin to unravel.
"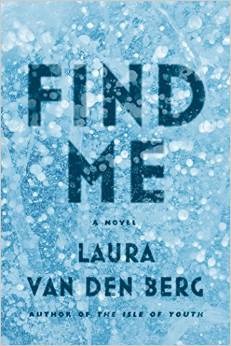 Find Me by Laura Van Den Berg (February 17)
"
Joy has no one. She spends her days working the graveyard shift at a grocery store outside Boston and nursing an addiction to cough syrup, an attempt to suppress her troubled past. But when a sickness that begins with memory loss and ends with death sweeps the country, Joy, for the first time in her life, seems to have an advantage: she is immune. When Joy's immunity gains her admittance to a hospital in rural Kansas, she sees a chance to escape her bleak existence. There she submits to peculiar treatments and follows seemingly arbitrary rules, forming cautious bonds with other patients—including her roommate, whom she turns to in the night for comfort, and twin boys who are digging a secret tunnel.

As winter descends, the hospital's fragile order breaks down and Joy breaks free, embarking on a journey from Kansas to Florida, where she believes she can find her birth mother, the woman who abandoned her as a child. On the road in a devastated America, she encounters mysterious companions, cities turned strange, and one very eerie house. As Joy closes in on Florida, she must confront her own damaged memory and the secrets she has been keeping from herself."
Soil by Jamie Kornegay (March 10)
"
When Jay Mize discovers a corpse on his property, he is sure his bad luck has come to a head and he is being framed. Were Jay in his right mind, he might have reported the body to the police at the very same moment they were searching for a missing tourist from Ohio. He might have not dragged the body back to his farm under the cover of night and spent hours disposing of it. But Jay Mize is not in his right mind. His mounting paranoia is accelerated by a hot-rod local deputy, nosing around with questions about the missing tourist and making dark comments about Jay's estranged wife Sandy. It's enough to make an honest man a maniac."
I Am Sorry to Think I Have Raised a Timid Son by Kent Russell (March 10)
Not a novel, but I don't care.
"
Kent Russell's essays take us to society's ragged edges, the junctures between savagery and civilization, where solitary, philosophical, troubled men yearn for a more heightened form of existence. We meet a self-immunizer in small-town Wisconsin who has conditioned his body to withstand the bites of the most venomous snakes; NHL enforcers who build their careers on violence and intimidation; a former mogul who has retreated to a crocodile-infested island off the Australian coast; the fans at a three-day music festival ominously called the Gathering; Amish baseball players who push the limits of their cultural restraints; and, perhaps most memorably, Russell's own oddball, inimitable forebears. I Am Sorry to Think I Have Raised a Timid Son, at once blistering and deeply personal, records Russell's quest to understand, through his journalistic subjects, his own appetites and urges, his childhood demons and persistent alienation, and, above all, his knotty, volatile, vital relationship with his father."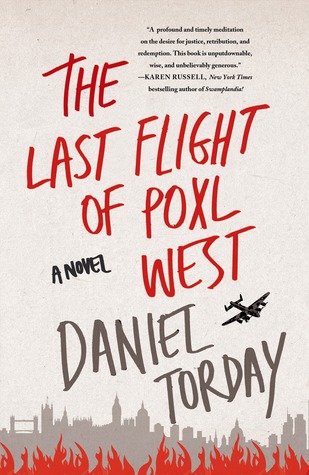 The Last Flight of Poxl West by Daniel Torday (March 17)
Apparently this is one of those books you can't talk about at all for fear of spoiling it. I'm into that.
"
All his life, Elijah Goldstein has idolized his charismatic Uncle Poxl. Intensely magnetic, cultured and brilliant, Poxl takes Elijah under his wing, introducing him to opera and art and literature. But when Poxl publishes a memoir of how he was forced to leave his home north of Prague at the start of WWII and then avenged the deaths of his parents by flying RAF bombers over Germany during the war, killing thousands of German citizens, Elijah watches as the carefully constructed world his uncle has created begins to unravel. As Elijah discovers the darker truth of Poxl's past, he comes to understand that the fearless war hero he always revered is in fact a broken and devastated man who suffered unimaginable losses from which he has never recovered."
What debuts are you looking forward to this year?