I'm back with 8 more 2017 books!
I definitely did not think there were more than two or three books of interest coming out during December. Publishing pretty much stops in November. But I was surprised by a number of titles that are definitely worth checking out before the year is over. We've got some books in translation, a book by a sf goddess, and even a finalist for the Man Booker Prize this year. We lucked out. Happy holidays, folks!
Record of a Night Too Brief by Hiromi Kawakami
(Dec 5)
ADD TO GOODREADS
In these three haunting and lyrical stories, three young women experience unsettling loss and romance.

In a dreamlike adventure, one woman travels through an apparently unending night with a porcelain girlfriend, mist-monsters and villainous monkeys; a sister mourns her invisible brother whom only she can still see, while the rest of her family welcome his would-be wife into their home; and an accident with a snake leads a shop girl to discover the snake-families everyone else seems to be concealing. - I am VERY interested in Pushkin Press' Japanese novella series, and this is probably the collection I'm most interested in.
Elmet by Fiona Mozley
(Dec 5)
ADD TO GOODREADS
The family thought the little house they had made themselves in Elmet, a corner of Yorkshire, was theirs, that their peaceful, self-sufficient life was safe. Cathy and Daniel roamed the woods freely, occasionally visiting a local woman for some schooling, living outside all conventions. Their father built things and hunted, working with his hands; sometimes he would disappear, forced to do secret, brutal work for money, but to them he was a gentle protector.

Narrated by Daniel after a catastrophic event has occurred, Elmet mesmerizes even as it becomes clear the family's solitary idyll will not last. When a local landowner shows up on their doorstep, their precarious existence is threatened, their innocence lost. Daddy and Cathy, both of them fierce, strong, and unyielding, set out to protect themselves and their neighbors, putting into motion a chain of events that can only end in violence. - A debut novel AND a finalist for the Man Booker Prize. GOD DAMN.
The Girl in the Tower (Winternight #2) by Katherine Arden
(Dec 5)
ADD TO GOODREADS
Orphaned and cast out as a witch by her village, Vasya's options are few: resign herself to life in a convent, or allow her older sister to make her a match with a Moscovite prince. Both doom her to life in a tower, cut off from the vast world she longs to explore. So instead she chooses adventure, disguising herself as a boy and riding her horse into the woods. When a battle with some bandits who have been terrorizing the countryside earns her the admiration of the Grand Prince of Moscow, she must carefully guard the secret of her gender to remain in his good graces—even as she realizes his kingdom is under threat from mysterious forces only she will be able to stop.
- People are RAVING about this book, so I really need to read the first novel in the trilogy, The Bear and the Nightingale.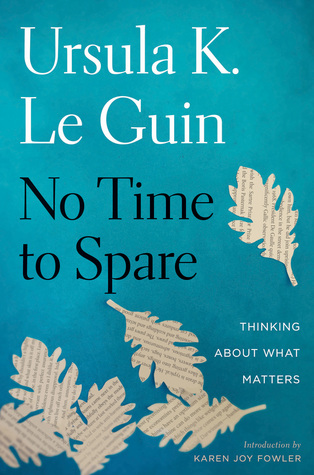 No Time to Spare: Thinking About What Matters by Ursula K. Le Guin
(Dec 5)
ADD TO GOODREADS
Ursula K. Le Guin has taken readers to imaginary worlds for decades. Now she's in the last great frontier of life, old age, and exploring new literary territory: the blog, a forum where her voice—sharp, witty, as compassionate as it is critical—shines. No Time to Spare collects the best of Ursula's blog, presenting perfectly crystallized dispatches on what matters to her now, her concerns with this world, and her wonder at it.

On the absurdity of denying your age, she says, "If I'm ninety and believe I'm forty-five, I'm headed for a very bad time trying to get out of the bathtub." On cultural perceptions of fantasy: "The direction of escape is toward freedom. So what is 'escapism' an accusation of?" On her new cat: "He still won't sit on a lap…I don't know if he ever will. He just doesn't accept the lap hypothesis." On breakfast: "Eating an egg from the shell takes not only practice, but resolution, even courage, possibly willingness to commit crime." And on all that is unknown, all that we discover as we muddle through life: "How rich we are in knowledge, and in all that lies around us yet to learn. Billionaires, all of us." - I don't feel great about publishing blog posts, but it's Ursula so whatever.
The World Goes On by László Krasznahorkai
(Dec 5)
ADD TO GOODREADS
In The World Goes On, a narrator first speaks directly, then tells eleven unforgettable stories, and then bids farewell ("for here I would leave this earth and these stars, because I would take nothing with me"). As László Krasznahoraki himself explains: "Each text is about drawing our attention away from this world, speeding our body toward annihilation, and immersing ourselves in a current of thought or a narrative…" A Hungarian interpreter obsessed with waterfalls, at the edge of the abyss in his own mind, wanders the chaotic streets of Shanghai. A traveler, reeling from the sights and sounds of Varanasi, encounters a giant of a man on the banks of the Ganges ranting on the nature of a single drop of water. A child laborer in a Portuguese marble quarry wanders off from work one day into a surreal realm utterly alien from his daily toils. The World Goes On is another amazing masterpiece by the winner of the 2015 Man Booker International Prize. "The excitement of his writing," Adam Thirwell proclaimed in the New York Review of Books, "is that he has come up with this own original forms—there is nothing else like it in contemporary literature."
The Vanishing Princess by Jenny Diski
(Dec 5)
ADD TO GOODREADS
The stories in The Vanishing Princess showcase a rarely seen side of this beloved writer, channeling both the piercing social examination of her nonfiction and the vivid, dreamlike landscapes of her novels. In a Rumpelstiltskin fairy tale turned on its head, a miller's daughter rises to power and wealth to rule over her kingdom and outwit the title villain. "Bathtime" tells the story of a woman's life through her attempts to build the perfect bathtub, chasing an elusive moment of peace. In "Short Curcuit," the author mines her own bouts in and out of mental institutions outside London to question whether those we think are mad are really the sanest among us.
The Mannequin Makers by Craig Cliff
(Dec 12)
ADD TO GOODREADS
Excitement is rare in the small town of Marumaru, New Zealand. So when a young Maori man arrives on the morning train one day in 1903--announcing the imminent visit of a famous strongman--the entire town turns out to greet him, save one. Colton Kemp, a department store window-dresser, is at home, watching his beloved wife die in premature childbirth. Tormented by grief, he hatches a plan to make his name and thwart his rival, the silent and gifted Carpenter: over the next sixteen years he will raise his newborn twins in secrecy and isolation, to become human mannequins in the world's most lifelike window display. - Agreed. Children should be seen, not heard.
Stone Baby by Michelle Sacks
(Dec 15)
ADD TO GOODREADS
This debut collection of stories by Michelle Sacks features characters from many walks of life, scattered around the globe—a young Irish woman backpacking in India, an ambitious black South African businessman, a roving killer for hire, a former SS officer. Their stories usually lead them—and us—to pivotal events that reveal unexpected, hidden truths.

Working on a large canvas that encompasses the extremes of rural Africa and urban London, material poverty and the surfeit of privilege, Sacks writes stories peopled by characters whose lives occasionally crisscross, with a protagonist in one story playing a deceptively small role in another. The stories artfully illuminate the rich interconnections and clashes that occur as her characters strike out boldly, yet find themselves at the mercy of capricious waves of circumstance.

Stone Baby explores movement, loss, and reinvention in the lives of people who are in the wrong place, in the wrong body, perhaps in the wrong life—it encapsulates an engrossing and urgent message in our age of migration and dislocation. - Can we talk about this cover??
What books are you looking forward to this December?