Holy moly, September completely got away from me.
Does anybody else feel like it didn't even happen? I don't want to say I did
nothing
, but did I do
anything
? It's really hard to know. Anyway, I hope you aren't busy on October 3, because that will be the day to visit your local bookstore to watch the employees get rid of all of the old books and replace them with the 209,348,023,984 new books coming out that single day. Honestly, I don't know where we're going to put all this cool stuff when it comes out tomorrow.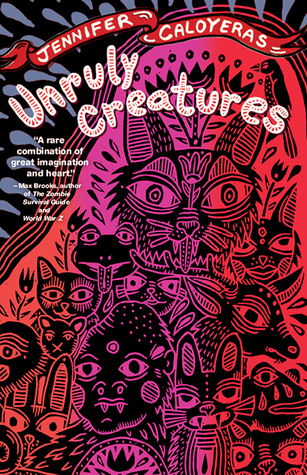 Unruly Creatures: Stories by Jennifer Caloyeras
(Oct 1)
ADD TO GOODREADS
In this collection rife with humor and pathos, alienated characters struggle to subvert, contain, control, and even escape their bodies. A teenage girl grapples with pubic hair grown wild, a biologist finds herself in love with a gorilla, a prisoner yearns to escape her biological destiny.

In some stories, the bodies have surrogates: a high-school girl babysits an elderly woman's plastic doll while negotiating her own sexual awakening, and a young man finds that he can only receive affection from his father when he is in costume. Dark humor and magical realism put in sharp relief the everyday trials of Americans in a story collection that asks, in what way are we more than the sum of our parts?
Her Body and Other Parties by Carmen Maria Machado
(Oct 3)
ADD TO GOODREADS
In Her Body and Other Parties, Carmen Maria Machado blithely demolishes the arbitrary borders between psychological realism and science fiction, comedy and horror, fantasy and fabulism. While her work has earned her comparisons to Karen Russell and Kelly Link, she has a voice that is all her own. In this electric and provocative debut, Machado bends genre to shape startling narratives that map the realities of women's lives and the violence visited upon their bodies.

A wife refuses her husband's entreaties to remove the green ribbon from around her neck. A woman recounts her sexual encounters as a plague slowly consumes humanity. A salesclerk in a mall makes a horrifying discovery within the seams of the store's prom dresses. One woman's surgery-induced weight loss results in an unwanted houseguest. And in the bravura novella Especially Heinous, Machado reimagines every episode of Law & Order: Special Victims Unit, a show we naively assumed had shown it all, generating a phantasmagoric police procedural full of doppelgangers, ghosts, and girls with bells for eyes. - SO SO SO SO GOOD.
Haunted Nights by Ellen Datlow
(Oct 3)
ADD TO GOODREADS
Sixteen never-before-published chilling tales that explore every aspect of our darkest holiday, Halloween, co-edited by Ellen Datlow, one of the most successful and respected genre editors, and Lisa Morton, a leading authority on Halloween. In addition to stories about scheming jack-o'-lanterns, vengeful ghosts, otherworldly changelings, disturbingly realistic haunted attractions, masks that cover terrifying faces, murderous urban legends, parties gone bad, cult Halloween movies, and trick or treating in the future, Haunted Nights also offers terrifying and mind-bending explorations of related holidays like All Souls' Day, Dia de los Muertos, and Devil's Night. - There are some v solid stories in here so far. Editor Ellen Datlow can really do no wrong.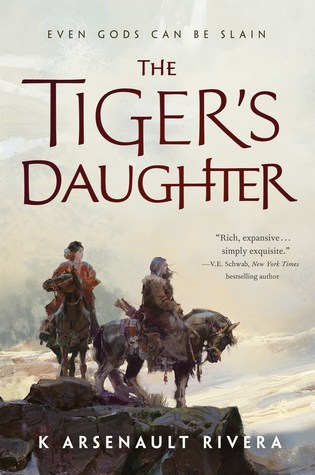 The Tiger's Daughter by K. Arsenault Rivera
(Oct 3)
ADD TO GOODREADS
The Hokkaran empire has conquered every land within their bold reach―but failed to notice a lurking darkness festering within the people. Now, their border walls begin to crumble, and villages fall to demons swarming out of the forests.

Away on the silver steppes, the remaining tribes of nomadic Qorin retreat and protect their own, having bartered a treaty with the empire, exchanging inheritance through the dynasties. It is up to two young warriors, raised together across borders since their prophesied birth, to save the world from the encroaching demons.

This is the story of an infamous Qorin warrior, Barsalayaa Shefali, a spoiled divine warrior empress, O-Shizuka, and a power that can reach through time and space to save a land from a truly insidious evil.
From Here to Eternity by Caitlin Doughty
(Oct 3)
ADD TO GOODREADS
The best-selling author of Smoke Gets in Your Eyes expands our sense of what it means to treat the dead with "dignity." Fascinated by our pervasive terror of dead bodies, mortician Caitlin Doughty set out to discover how other cultures care for their dead. In rural Indonesia, she observes a man clean and dress his grandfather's mummified body. Grandpa's mummy has lived in the family home for two years, where the family has maintained a warm and respectful relationship. She meets Bolivian natitas (cigarette- smoking, wish- granting human skulls), and introduces us to a Japanese kotsuage, in which relatives use chopsticks to pluck their loved- ones' bones from cremation ashes. With curiosity and morbid humor, Doughty encounters vividly decomposed bodies and participates in compelling, powerful death practices almost entirely unknown in America. Featuring Gorey-esque illustrations by artist Landis Blair, From Here to Eternity introduces death-care innovators researching green burial and body composting, explores new spaces for mourning— including a glowing- Buddha columbarium in Japan and America's only open-air pyre— and reveals unexpected new possibilities for our own death rituals.
An Unkindness of Ghosts by Rivers Solomon
(Oct 3)
ADD TO GOODREADS
Odd-mannered, obsessive, withdrawn, Aster has little to offer folks in the way of rebuttal when they call her ogre and freak. She's used to the names; she only wishes there was more truth to them. If she were truly a monster, as they accuse, she'd be powerful enough to tear down the walls around her until nothing remained of her world, save for stories told around the cookfire.

Aster lives in the low-deck slums of the HSS Matilda, a space vessel organized much like the antebellum South. For generations, the Matilda has ferried the last of humanity to a mythical Promised Land. On its way, the ship's leaders have imposed harsh moral restrictions and deep indignities on dark-skinned sharecroppers like Aster, who they consider to be less than human.

When the autopsy of Matilda's sovereign reveals a surprising link between his death and her mother's suicide some quarter-century before, Aster retraces her mother's footsteps. Embroiled in a grudge with a brutal overseer and sowing the seeds of civil war, Aster learns there may be a way off the ship if she's willing to fight for it.
Reservoir 13 by Jon McGregor
(Oct 3)
ADD TO GOODREADS
Midwinter in an English village. A teenage girl has gone missing. Everyone is called upon to join the search. The villagers fan out across the moors as the police set up roadblocks and a crowd of news reporters descends on what is usually a place of peace. Meanwhile, there is work that must still be done: cows milked, fences repaired, stone cut, pints poured, beds made, sermons written, a pantomime rehearsed. As the seasons unfold and the search for the missing girl goes on, there are those who leave the village and those who are pulled back; those who come together and those who break apart. There are births and deaths; secrets kept and exposed; livelihoods made and lost; small kindnesses and unanticipated betrayals. An extraordinary novel of cumulative power and grace, RESERVOIR 13 explores the rhythms of the natural world and the repeated human gift for violence, unfolding over thirteen years as the aftershocks of a tragedy refuse to subside. - I've only heard incredible things about this from my colleagues.
The Genius Plague by David Walton
(Oct 3)
ADD TO GOODREADS
What if the pandemic you thought would kill you made you more intelligent instead? In the Amazon jungle, a disease is spreading. To those who survive, it grants enhanced communication, memory, and pattern recognition. But the miracle may be the sinister survival mechanism of a fungal organism, manipulating the infected into serving it. Paul Johns, a mycologist, is convinced the fungal host is the next stage of human evolution, while his brother Neil, an analyst at the NSA, is committed to its destruction. Is the human race the master in this symbiotic relationship, or are we becoming the pawns of a subtly dominating and utterly alien intelligence?
The Doll's Alphabet by Camilla Grudova
(Oct 10)
ADD TO GOODREADS
Dolls, sewing machines, tinned foods, mirrors, malfunctioning bodies—by constantly reinventing ways to engage with her obsessions and motifs, Camilla Grudova has built a universe that's highly imaginative, incredibly original, and absolutely discomfiting. The stories in The Doll's Alphabet are by turns child-like and naive, grotesque and very dark: the marriage of Margaret Atwood and Angela Carter. - Sheila Heti and Helen Oyeyemi are into it, so I WILL BE TOO.
In the Distance by Hernan Diaz
(Oct 10)
ADD TO GOODREADS
A young Swedish boy finds himself in penniless and alone in California. He travels East in search of his brother, moving on foot against the great push to the West. Driven back over and over again on his journey through vast expanses, Håkan meets naturalists, criminals, religious fanatics, Indians, and lawmen, and his exploits turn him into a legend. Díaz defies the conventions of historical fiction and genre (travel narratives, the bildungsroman, nature writing, the Western), offering a probing look at the stereotypes that populate our past and a portrait of radical foreignness.

At first, it was a contest, but in time the beasts understood that, with an embrace and the slightest push, they had to lie down on their side and stay until Håkan got up. He did this each time he thought he spied someone on the circular horizon. Had Håkan and his animals ever been spotted, the distant travelers would have taken the vanishing silhouettes for a mirage. But there were no such travelers—the moving shadows he saw almost every day in the distance were illusions. With the double intention of getting away from the trail and the cold, he had traveled south for days.
The Power by Naomi Alderman
(Oct 10)
ADD TO GOODREADS
In The Power the world is a recognizable place: there's a rich Nigerian kid who larks around the family pool; a foster girl whose religious parents hide their true nature; a local American politician; a tough London girl from a tricky family. But something vital has changed, causing their lives to converge with devastating effect. Teenage girls now have immense physical power - they can cause agonizing pain and even death. And, with this small twist of nature, the world changes utterly.

This extraordinary novel by Naomi Alderman, a Sunday Times Young Writer of the Year and Granta Best of British writer, is not only a gripping story of how the world would change if power was in the hands of women but also exposes, with breath-taking daring, our contemporary world.
Infinite Ground by Martin MacInnes
(Oct 17)
ADD TO GOODREADS
During a sweltering South American summer, a family convenes for dinner at a restaurant. Midway through the meal, Carlos disappears. An experienced, semi-retired inspector takes the case, but what should be a routine investigation becomes something strange, intangible, even sinister. The corporation for which Carlos worked seems to serve no purpose; the staff talk of their missing colleague's alarming, shifting physical symptoms; a forensic scientist uncovers evidence of curious abnormalities in the thriving ecosystem of cells and bacteria that made up Carlos's body. As the inspector relives and retraces the missing man's footsteps, the trail leads him deep into the country's rainforest interior, where he encounters both horror and wonder.
I Can't Breathe: A Killing on Bay Street by Matt Taibbi
(Oct 24)
ADD TO GOODREADS
On July 17, 2014, Eric Garner died in Staten Island, New York City, after a police officer put him in what has been described as a "chokehold" during an arrest for selling "loosies," or single cigarettes. The final moments of his life were captured on video and seen by millions, sparking a nationwide series of protests that built into the "Black Lives Matter" movement that has transformed American politics.

Weeks after Garner's death, two New York City police officers were killed by a young black man from Maryland, in what he claimed was revenge for Garner's death. Those killings in turn led to police protests, clashes with New York's new liberal mayor, and an eventual work slow-down.

Taibbi tells a compelling story of the crime, the grand jury, the media circus, the murder of the police, and the protests from every side.
Above the Timberline by Gregory Manchess
(Oct 24)
ADD TO GOODREADS
From renowned artist Gregory Manchess comes a lavishly painted novel about the son of a famed polar explorer searching for his stranded father, and a lost city buried under snow in an alternate future.

When it started to snow, it didn't stop for 1,500 years. The Pole Shift that ancient climatologists talked about finally came, the topography was ripped apart and the weather of the world was changed—forever. Now the Earth is covered in snow, and to unknown depths in some places.

In this world, Wes Singleton leaves the academy in search of his father, the famed explorer Galen Singleton, who was searching for a lost city until Galen's expedition was cut short after being sabotaged. But Wes believes his father is still alive somewhere above the timberline.

Fully illustrated with over 120 pieces of full-page artwork throughout, Above the Timberline is a stunning and cinematic combination of art and novel. - I cannot wait to see this in person.
Twin Peaks: The Final Dossier by Mark Frost
(Oct 31)
ADD TO GOODREADS
While The Secret History of Twin Peaks served to expand the mysteries of the town and place the unexplained phenomena that unfolded there into a vastly layered, wide-ranging history, Twin Peaks: The Final Dossier tells us what happened to key characters in the twenty-five years in between the events of the first series and the second, offering details and insights fans will be clamoring for. The novel also adds context and commentary to the strange and cosmic happenings of the new series. For fans around the world begging for more, Mark Frost's final take laid out in this novel will be required reading. - I had no idea this was happening!!
The King is Always Above the People: Stories by Daniel Alarcón
(Oct 31)
ADD TO GOODREADS
Migration. Betrayal. Family secrets. Doomed love. Uncertain futures. In Daniel Alarcon's hands, these are transformed into deeply human stories with high stakes. In -The Thousands, - people are on the move and forging new paths; hope and heartbreak abound. A man deals with the fallout of his blind relatives' mysterious deaths and his father's mental breakdown and incarceration in -The Bridge.- A gang member discovers a way to forgiveness and redemption through the haze of violence and trauma in -The Ballad of Rocky Rontal.- And in the tour de force novella, -The Auroras-, a man severs himself from his old life and seeks to make a new one in a new city, only to find himself seduced and controlled by a powerful woman. Richly drawn, full of unforgettable characters, The King is Always Above the People reveals experiences both unsettling and unknown, and yet eerily familiar in this new world.
What books are you looking forward to this October?