Holy moly, there are so many August releases that I'm interested in.
It took a lot of agony and suffering to narrow it down to 15, but somebody had to do it. And I don't mean to be shallow, but there are some really beautiful covers in this line up, MY GOD. Mostly unrelated: shout out to nobody who told me I spelled vitamin "vitamon" in my July post. Yikes. I've clearly been playing too much Pokemon Go, but who can blame me??
The Lauras by Sara Taylor
(August 1)
ADD TO GOODREADS
I didn't realise my mother was a person until I was thirteen years old and she pulled me out of bed, put me in the back of her car, and we left home and my dad with no explanations. I thought that Ma was all that she was and all that she had ever wanted to be. I was wrong. As we made our way from Virginia to California, returning to the places where she'd lived as a child in foster care and as a teenager on the run, repaying debts and keeping promises, I learned who she was in her life-before-me and the secrets she had kept even from herself. But when life on the road began to feel normal I couldn't forget the home we'd left behind, couldn't deny that, just like my mother, I too had unfinished business.

This enigmatic pilgrimage takes them back to various stages of Alex's mother's life, each new state prompting stories and secrets. Together they trace back through a life of struggle and adventure to put to rest unfinished business, to heal old wounds and to search out lost friends. This is an extraordinary story of a life; a stunning exploration of identity and an authentic study of the relationship between a mother and her child. - Sara Taylor wrote The Shore, a book I adored in 2015. So excited to start her latest novel!!
Noumenon by Marina J. Lostetter
(August 1)
ADD TO GOODREADS
In 2088, humankind is at last ready to explore beyond Earth's solar system. But one uncertainty remains: Where do we go?

Astrophysicist Reggie Straifer has an idea. He's discovered an anomalous star that appears to defy the laws of physics, and proposes the creation of a deep-space mission to find out whether the star is a weird natural phenomenon, or something manufactured.

The journey will take eons. In order to maintain the genetic talent of the original crew, humankind's greatest ambition—to explore the furthest reaches of the galaxy—is undertaken by clones. But a clone is not a perfect copy, and each new generation has its own quirks, desires, and neuroses. As the centuries fly by, the society living aboard the nine ships (designated "Convoy Seven") changes and evolves, but their mission remains the same: to reach Reggie's mysterious star and explore its origins—and implications.

A mosaic novel of discovery, Noumenon—in a series of vignettes—examines the dedication, adventure, growth, and fear of having your entire world consist of nine ships in the vacuum of space. The men and women, and even the AI, must learn to work and live together in harmony, as their original DNA is continuously replicated and they are born again and again into a thousand new lives. With the stars their home and the unknown their destination, they are on a voyage of many lifetimes—an odyssey to understand what lies beyond the limits of human knowledge and imagination
Motherest by Kristen Iskandrian
(August 1)
ADD TO GOODREADS
It's the early 1990s, and Agnes is running out of people she can count on. A new college student, she is caught between the broken home she leaves behind and the wilderness of campus life. What she needs most is her mother, who has seemingly disappeared, and her brother, who left the family tragically a few years prior.

As Agnes falls into new romance, mines female friendships for intimacy, and struggles to find her footing, she writes letters to her mother, both to conjure a closeness they never had and to try to translate her experiences to herself. When she finds out she is pregnant, Agnes begins to contend with what it means to be a mother and, in some ways, what it means to be your own mother. - This one is compared to Jenny Offill and and Maria Semple so um yes hi.
The Grip of It by Jac Jemc
(August 1)
ADD TO GOODREADS
Julie and James settle into a house in a small town outside the city where they met. The move—prompted by James's penchant for gambling, his inability to keep his impulses in check—is quick and seamless; both Julie and James are happy to leave behind their usual haunts and start afresh. But this house, which sits between ocean and forest, has plans for the unsuspecting couple. As Julie and James try to settle into their home and their relationship, the house and its surrounding terrain become the locus of increasingly strange happenings. The architecture—claustrophobic, riddled with hidden rooms within rooms—becomes unrecognizable, decaying before their eyes. Stains are animated on the wall—contracting, expanding—and map themselves onto Julie's body in the form of bruises; mold spores taint the water that James pours from the sink. Together the couple embark on a panicked search for the source of their mutual torment, a journey that mires them in the history of their peculiar neighbors and the mysterious residents who lived in the house before Julia and James.
The Wrong Way to Save Your Life: Essays by Megan Stielstra
(August 1)
ADD TO GOODREADS
In this poignant and inciting collection of literary essays, Megan Stielstra tells stories to ward off fears both personal and universal as she grapples toward a better way to live. In her titular piece "The Wrong Way To Save Your Life," she answers the question of what has value in our lives—a question no longer rhetorical when the apartment above her family's goes up in flames. "Here is My Heart" sheds light on Megan's close relationship with her father, whose continued insistence on climbing mountains despite a series of heart attacks leads the author to dissect deer hearts in a poetic attempt to interrogate her own feelings about mortality.

Whether she's imagining the implications of open-carry laws on college campuses, recounting the story of going underwater on the mortgage of her first home, or revealing the unexpected pains and joys of marriage and motherhood, Stielstra's work informs, impels, enlightens, and embraces us all. The result is something beautiful—this story, her courage, and, potentially, our own.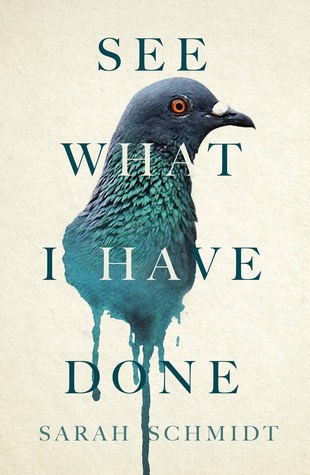 See What I Have Done by Sarah Schmidt
(August 1)
ADD TO GOODREADS
On the morning of August 4, 1892, Lizzie Borden calls out to her maid: Someone's killed Father. The brutal ax-murder of Andrew and Abby Borden in their home in Fall River, Massachusetts, leaves little evidence and many unanswered questions. While neighbors struggle to understand why anyone would want to harm the respected Bordens, those close to the family have a different tale to tell—of a father with an explosive temper; a spiteful stepmother; and two spinster sisters, with a bond even stronger than blood, desperate for their independence.

As the police search for clues, Emma comforts an increasingly distraught Lizzie whose memories of that morning flash in scattered fragments. Had she been in the barn or the pear arbor to escape the stifling heat of the house? When did she last speak to her stepmother? Were they really gone and would everything be better now? Shifting among the perspectives of the unreliable Lizzie, her older sister Emma, the housemaid Bridget, and the enigmatic stranger Benjamin, the events of that fateful day are slowly revealed through a high-wire feat of storytelling. - Murder!
Sour Heart by Jenny Zhang
(August 1)
ADD TO GOODREADS
Centered on a community of immigrants who have traded their endangered lives as artists in China and Taiwan for the constant struggle of life at the poverty line in 1990s New York City, Zhang's exhilarating collection examines the many ways that family and history can weigh us down and also lift us up. From the young woman coming to terms with her grandmother's role in the Cultural Revolution to the daughter struggling to understand where her family ends and she begins, to the girl discovering the power of her body to inspire and destroy, these seven vibrant stories illuminate the complex and messy inner lives of girls struggling to define themselves. Fueled by Zhang's singular voice and sly humor, this collection introduces Zhang as a bright and devastating force in literary fiction.
Confessions of a Recovering Environmentalist by Paul Kingsnorth
(August 1)
ADD TO GOODREADS
Paul Kingsnorth was once an activist—an ardent environmentalist. He fought against rampant development and the depredations of a corporate world that seemed hell-bent on ignoring a looming climate crisis in its relentless pursuit of profit. But as the environmental movement began to focus on "sustainability" rather than the defense of wild places for their own sake and as global conditions worsened, he grew disenchanted with the movement that he once embraced. He gave up what he saw as the false hope that residents of the First World would ever make the kind of sacrifices that might avert the severe consequences of climate change.

Full of grief and fury as well as passionate, lyrical evocations of nature and the wild, Confessions of a Recovering Environmentalist gathers the wave-making essays that have charted the change in Kingsnorth's thinking. In them he articulates a new vision that he calls "dark ecology," which stands firmly in opposition to the belief that technology can save us, and he argues for a renewed balance between the human and nonhuman worlds.
Moonbath by Yanick Lahens
(August 8)
ADD TO GOODREADS
"A novel of violent beauty." — Le Monde

The award-winning saga of a peasant family living in a small Haitian village, recounting through stories of tradition and superstition, voodoo, romance, and violence, the lives of four generations of women struggling to hold the family together in a volatile, roiling landscape of political turmoil and economic suffering.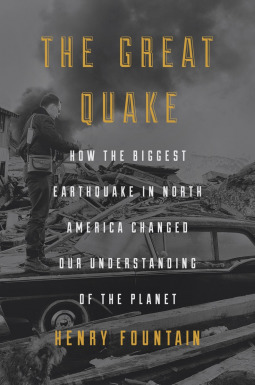 The Great Quake: How the Biggest Earthquake in North America Changed Our Understanding of the Planet by Henry Fountain
(August 8)
ADD TO GOODREADS
On March 27, 1964, at 5:36 p.m., the biggest earthquake ever recorded in North America--and the second biggest ever in the world, measuring 9.2 on the Richter scale--struck Alaska, devastating coastal towns and villages and killing more than 130 people in what was then a relatively sparsely populated region. In a riveting tale about the almost unimaginable brute force of nature, New York Times science journalist Henry Fountain, in his first trade book, re-creates the lives of the villagers and townspeople living in Chenega, Anchorage, and Valdez; describes the sheer beauty of the geology of the region, with its towering peaks and 20-mile-long glaciers; and reveals the impact of the quake on the towns, the buildings, and the lives of the inhabitants. George Plafker, a geologist for the U.S. Geological Survey with years of experience scouring the Alaskan wilderness, is asked to investigate the Prince William Sound region in the aftermath of the quake, to better understand its origins. His work confirmed the then controversial theory of plate tectonics that explained how and why such deadly quakes occur, and how we can plan for the next one. - I love geology.
How to Behave in a Crowd by Camille Bordas
(August 15)
ADD TO GOODREADS
Isidore Mazal is eleven years old, the youngest of six siblings living in a small French town. He doesn't quite fit in. Berenice, Aurore, and Leonard are on track to have doctorates by age twenty-four. Jeremie performs with a symphony, and Simone, older than Isidore by eighteen months, expects a great career as a novelist--she's already put Isidore to work on her biography. The only time they leave their rooms is to gather on the old, stained couch and dissect prime-time television dramas in light of Aristotle's Poetics.

Isidore has never skipped a grade or written a dissertation. But he notices things the others don't, and asks questions they fear to ask. So when tragedy strikes the Mazal family, Isidore is the only one to recognize how everyone is struggling with their grief, and perhaps the only one who can help them if he doesn't run away from home first.

Isidore's unstinting empathy, combined with his simmering anger, makes for a complex character study, in which the elegiac and comedic build toward a heartbreaking conclusion. With How to Behave in a Crowd, Camille Bordas immerses readers in the interior life of a boy puzzled by adulthood and beginning to realize that the adults around him are just as lost. - George Saunders and Jesse Ball like this book, so I'm sold.
Home Fire by Kamila Shamsie
(August 15)
ADD TO GOODREADS
Practical-minded Isma has spent the years since her mother's death watching out for her twin brother and sister in their North London home. When an invitation to grad school in America comes through unexpectedly, it brings the irresistible promise of freedom too long deferred. But even an ocean away, Isma can't stop worrying about her beautiful, headstrong, politically inclined sister, Aneeka, and Parvaiz, their brother, who seems to be adrift—until suddenly he is half a globe away in Raqqa, trying to prove himself to the dark legacy of the father he never knew, with no road back.

Then Eamonn Lone enters the sisters' lives. Son of a powerful political figure, he has his own birthright to live up to—or defy. Is he to be a chance at love? The instrument of Parvaiz's salvation? Suddenly, two families' fates are inextricably, devastatingly entwined.

Home Fire is a nuanced, searing, and exceedingly timely novel about love and loyalty, ideology and identity, what we choose to sacrifice for and why.
Caca Dolce: Essays from a Lowbrow Life by Chelsea Martin
(August 15)
ADD TO GOODREADS
Funny, candid, and searchingly self-aware, this essay collection tells the story of Chelsea Martin's coming of age as an artist. We are with Chelsea as an eleven-year-old atheist, trying to will an alien visitation to her neighborhood; fighting with her stepfather and grappling with a Tourette's diagnosis as she becomes a teenager; falling under the sway of frenemies and crushes in high school; going into debt to afford what might be a meaningless education at an expensive art college; navigating the messy process of falling in love with a close friend; and struggling for independence from her emotionally manipulative father and from the family and friends in the dead-end California town that has defined her upbringing. This is a book about relationships, class, art, sex, money, and family--and about growing up weird, and poor, in the late 1990s and early 2000s.
Sip by Brian Allen Carr
(August 29)
ADD TO GOODREADS
It started with a single child, and quickly spread: you could get high by drinking your own shadow. At night, lights were destroyed so that addicts could sip shadow in the pure light of the moon.

Gangs of shadow addicts chased down children on playgrounds, rounded up old ladies from retirement homes. Cities were destroyed and governments fell. And if your shadow was sipped entirely, you became one of them, had to find more shadow, at any cost, or go mad.

150 years later, what's left of the world is divided between the highly regimented life of those inside dome-cities that are protected from natural light (and natural shadows), and those forced to the dangerous, hardscrabble life in the wilds outside. In rural Texas, Mira, her shadow-addicted friend Murk, and an ex-Domer named Bale, search for a possible mythological cure to the shadow sickness but they must do so, it is said, before the return of Halley's Comet, which is only days away.
My Absolute Darling by Gabriel Tallent
(August 29)
ADD TO GOODREADS
Turtle Alveston is a survivor. At fourteen, she roams the woods along the northern California coast. The creeks, tide pools, and rocky islands are her haunts and her hiding grounds, and she is known to wander for miles. But while her physical world is expansive, her personal one is small and treacherous: Turtle has grown up isolated since the death of her mother, in the thrall of her tortured and charismatic father, Martin. Her social existence is confined to the middle school (where she fends off the interest of anyone, student or teacher, who might penetrate her shell) and to her life with her father.

Then Turtle meets Jacob, a high-school boy who tells jokes, lives in a big clean house, and looks at Turtle as if she is the sunrise. And for the first time, the larger world begins to come into focus: her life with Martin is neither safe nor sustainable. Motivated by her first experience with real friendship and a teenage crush, Turtle starts to imagine escape, using the very survival skills her father devoted himself to teaching her. The reader tracks Turtle's escalating acts of physical and emotional courage, and watches, heart in throat, as she struggles to become her own hero--and in the process, becomes ours as well.
What books are you looking forward to this August?