Honestly, we could just call this post "10 Books To Look For This July 11"
because I guess that's the only suitable day for book publishing this month.
Insightful and biting commentary aside, I'm super hyped about all of these books coming out this month and YOU SHOULD BE TOO (if you want to be, it is truly your choice). What have we got on the docket this July? Cults! Arson! Mysterious tapes! Sad stuff! Alien stuff! All the stuff you could ever need!!
In the Days of Rain: A Daughter, a Father, a Cult by Rebecca Stott
(July 4)
ADD TO GOODREADS
Rebecca Stott was born a fourth-generation Brethren and she grew up in England, in the Brighton branch of the Exclusive Brethren cult in the early 1960s. Her family dated back to the group's origins in the first half of the nineteenth century, and her father was a high-ranking minister. However, as an intelligent, inquiring child, Stott was always asking dangerous questions and so, it turns out, was her father, who was also full of doubt. When a sex scandal tore the Exclusive Brethren apart in 1970, her father pulled the family out of the cult. But its impact on their lives shaped everything before and all that was to come.
Found Audio by N.J. Campbell
(July 11)
ADD TO GOODREADS
Amrapali Anna Singh is an historian and analyst capable of discerning the most cryptic and trivial details from audio recordings. One day, a mysterious man appears at her office in Dutch Harbor, Alaska, having traveled a great distance to bring her three Type IV audio cassettes that bear the stamp of a library in Buenos Aires that may or may not exist.

On the cassettes is the deposition of an adventure journalist and his obsessive pursuit of an amorphous, legendary, and puzzling "City of Dreams." Spanning decades, his quest leads him from a snake-hunter in the Louisiana bayou to the walled city of Kowloon on the eve of its destruction, from the Singing Dunes of Mongolia to a chess tournament in Istanbul. The deposition also begs the question: Who is making the recording, and why?

Here—for the first time—is the complete archival manuscript of the mysterious recordings accompanied by Singh's analysis.
American Fire: Love, Arson, and Life in a Vanishing Land by Monica Hesse
(July 11)
ADD TO GOODREADS
The arsons started on a cold November midnight and didn't stop for months. Night after night, the people of Accomack County waited to see which building would burn down next, regarding each other at first with compassion, and later suspicion. Vigilante groups sprang up, patrolling the rural Virginia coast with cameras and camouflage...

The culprit, and the path that led to these crimes, is a story of twenty-first century America. Washington Post reporter Monica Hesse first drove down to the reeling county to cover a hearing for Charlie Smith, a struggling mechanic who upon his capture had promptly pleaded guilty to sixty-seven counts of arson. But as Charlie's confession unspooled, it got deeper and weirder. He wasn't lighting fires alone; his crimes were galvanized by a surprising love story. Over a year of investigating, Hesse uncovered the motives of Charlie and his accomplice, girlfriend Tonya Bundick, a woman of steel-like strength and an inscrutable past. Theirs was a love built on impossibly tight budgets and simple pleasures. They were each other's inspiration and escape…until they weren't.

...A mesmerizing and crucial panorama with nationwide implications, American Fire asks what happens when a community gets left behind. - Reading this right now and it is SO GOOD.
What We Lose by Zinzi Clemmons
(July 11)
ADD TO GOODREADS
Raised in Pennsylvania, Thandi views the world of her mother's childhood in Johannesburg as both impossibly distant and ever present. She is an outsider wherever she goes, caught between being black and white, American and not. She tries to connect these dislocated pieces of her life, and as her mother succumbs to cancer, Thandi searches for an anchor—someone, or something, to love.

In arresting and unsettling prose, we watch Thandi's life unfold, from losing her mother and learning to live without the person who has most profoundly shaped her existence, to her own encounters with romance and unexpected motherhood. Through exquisite and emotional vignettes, Clemmons creates a stunning portrayal of what it means to choose to live, after loss.
The Rift by Nina Allan
(July 11)
ADD TO GOODREADS
Selena and Julie are sisters. As children they were close, but as they grow older, a rift develops between them. There are greater rifts, however. Julie goes missing aged seventeen. It will be twenty years before Selena sees her again. When Julie reappears, she tells Selena an incredible story about how she has spent time on another planet. Does Selena dismiss her sister as a the victim of delusions, or believe her, and risk her own sanity?
Goodbye, Vitamin by Rachel Khong
(July 11)
ADD TO GOODREADS
A young woman returns home to care for her failing father in this fine, funny, and inescapably touching debut, from an affecting and wonderfully original new literary voice.

A few days after Christmas in a small suburb outside of L.A., pairs of a man's pants hang from the trees. The pants belong to Howard Young, a prominent history professor, recently diagnosed with Alzheimer's disease. Howard's wife, Annie, summons their daughter, Ruth. Freshly disengaged from her fiance and still broken up about it, feeling that life has not turned out quite the way she planned, thirty-year-old Ruth quits her job and arrives home to find her parents' situation worse than she'd realized. Her father is erratically lucid and her mother, a devoted and creative cook, sees the sources of memory loss in every pot and pan. But as Howard's condition intensifies, the comedy in Ruth's situation takes hold, gently transforming her grief. She throws herself into caretaking: cooking dementia-fighting meals (a feast of jellyfish!), researching supplements, anything to reignite her father's once-notable memory. And when the university finally lets Howard go, Ruth and one of her father's handsome former students take their efforts to help Howard one step too far.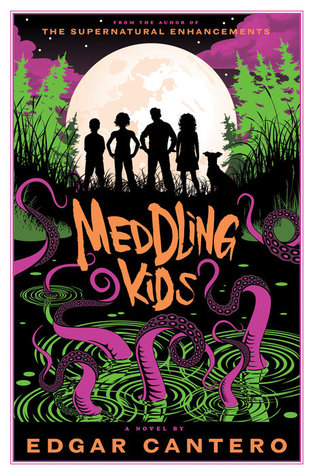 Meddling Kids by Edgar Cantero
(July 11)
ADD TO GOODREADS
1990. The teen detectives once known as the Blyton Summer Detective Club (of Blyton Hills, a small mining town in the Zoinx River Valley in Oregon) are all grown up and haven't seen each other since their fateful, final case in 1977. Andy, the tomboy, is twenty-five and on the run, wanted in at least two states. Kerri, one-time kid genius and budding biologist, is bartending in New York, working on a serious drinking problem. At least she's got Tim, an excitable Weimaraner descended from the original canine member of the team. Nate, the horror nerd, has spent the last thirteen years in and out of mental health institutions, and currently resides in an asylum in Arhkam, Massachusetts. The only friend he still sees is Peter, the handsome jock turned movie star. The problem is, Peter's been dead for years.

The time has come to uncover the source of their nightmares and return to where it all began in 1977. This time, it better not be a man in a mask. The real monsters are waiting.
Dichronauts by Greg Egan
(July 11)
ADD TO GOODREADS
Seth is a surveyor, along with his friend Theo, a leech-like creature running through his skull who tells Seth what lies to his left and right. Theo, in turn, relies on Seth for mobility, and for ordinary vision looking forwards and backwards. Like everyone else in their world, they are symbionts, depending on each other to survive.

In the universe containing Seth's world, light cannot travel in all directions: there is a "dark cone" to the north and south. Seth can only face to the east (or the west, if he tips his head backwards). If he starts to turn to the north or south, his body stretches out across the landscape, and to rotate as far as north-north-east is every bit as impossible as accelerating to the speed of light.

Every living thing in Seth's world is in a state of perpetual migration as they follow the sun's shifting orbit and the narrow habitable zone it creates. Cities are being constantly disassembled at one edge and rebuilt at the other, with surveyors mapping safe routes ahead.

But when Seth and Theo join an expedition to the edge of the habitable zone, they discover a terrifying threat: a fissure in the surface of the world, so deep and wide that no one can perceive its limits. As the habitable zone continues to move, the migration will soon be blocked by this unbridgeable void, and the expedition has only one option to save its city from annihilation: descend into the unknown.
Tomorrow's Kin by Nancy Kress
(July 11)
ADD TO GOODREADS
Tomorrow's Kin is the first volume in and all new hard SF trilogy by Nancy Kress based on the Nebula Award-winning Yesterday's Kin.

The aliens have arrived... they've landed their Embassy ship on a platform in New York Harbor, and will only speak with the United Nations. They say that their world is so different from Earth, in terms of gravity and atmosphere, that they cannot leave their ship. The population of Earth has erupted in fear and speculation.

One day Dr. Marianne Jenner, an obscure scientist working with the human genome, receives an invitation that she cannot refuse. The Secret Service arrives at her college to escort her to New York, for she has been invited, along with the Secretary General of the UN and a few other ambassadors, to visit the alien Embassy.

The truth is about to be revealed. Earth's most elite scientists have ten months to prevent a disaster, and not everyone is willing to wait. - Nancy Kress is an amazing writer and if you like literary sci-fi, you should definitely check her out.
The Dark Dark by Samantha Hunt
(July 18)
ADD TO GOODREADS
In these marvelously inventive stories, Samantha Hunt imagines numerous ways in which lives might be altered by the otherworldly. An FBI agent falls in love with a robot built for a suicide mission. A young woman unintentionally cheats on her husband when she is transformed, nightly, into a deer. Two strangers become lovers and find themselves somehow responsible for the resurrection of a dog. A woman tries to start her life anew after the loss of a child but cannot help riddling that new life with lies. Thirteen pregnant teenagers develop a strange relationship with the Founding Fathers of American history. A lonely woman's fertility treatments become the stuff of science fiction.

Magic intrudes. Technology betrays and disappoints. Infidelities lead us beyond the usual conflict. Our bodies change, reproduce, decay, and surprise. With her characteristic unguarded gaze and offbeat humor, Hunt has conjured stories that urge an understanding of youth and mortality, magnification and loss, and hold out the hope that we can know one another more deeply or at least stand side by side to observe the mystery of the world. - Author of Mr. Splitfoot! Yes!
What books are you looking forward to this July?