Your girl MEANT to post this yesterday, but she forgot to because it was HER BIRTHDAY!!
That's right, I'm 24 now and loving it. Happy New Year, everybody, here are the ten weirdest books I read during 2016.
The Library at Mount Char by Scott Hawkins
MY REVIEW
ADD TO GOODREADS
This is a crazy nonsense adventure that will keep you saying "what the fuck?" the whole way through. It's so much fun to read and it's got a little something for everybody.
A Guide to Being Born by Ramona Ausubel
MY REVIEW
ADD TO GOODREADS
This book just nearly made it onto my top ten best books read in 2016 list. I still feel horrible about not including it. The stories in this collection are bizarre and sometimes creepy, but they are so so human and moving. I cried like a baby. Just beautiful.
Subsidiary by Matias Celedon
MY REVIEW
ADD TO GOODREADS
This was one of the weirder formats that I read during 2016. Each page only has a sentence or so on it. And they were all stamped on. The plot itself is also weird af. So much so that I didn't really know what was going on or why during most of it, and not in a good way.
Mr. Splitfoot by Samantha Hunt
MY REVIEW
ADD TO GOODREADS
A best book AND an amazingly weird book. There's a cult, some star stuff, some psychic stuff, some talking to the dead stuff, etc.. Everything you could ever really want, really. I tell people that it's weird like Lost where you have no idea how it will all make sense, except the ending pulls everything together in a beautiful way in this novel.
Songs of a Dead Dreamer by Thomas Ligotti
MY REVIEW
ADD TO GOODREADS
If you're looking for a great collection of creepy, strange, dark horror stories, you have to check out Thomas Ligotti. Songs of a Dead Dreamer has some fantastically scary stories and the weird concepts will make you feel like you're in a dream.
Where We Go When All We Were Was Gone by Sequoia Nagamatsu
MY REVIEW
ADD TO GOODREADS
Japanese folklore and pop culture is really, really out there. So of course a collection of short stories set on these things is going to make this weirdest list. I still think about the long necked demon that traveled through a city head first featured in one of the stories to this day (for better or for worse).
One Hundred Shadows by Hwang Jungeun
MY REVIEW
ADD TO GOODREADS
Oooooh, this novella is unsettling. In this South Korean book, shadows begin to separate from the grounds and their humans: at first for short amounts of time, but later for longer. And it spreads. As far as creepy South Korean novellas go, I liked this a lot better than The Vegetarian. Almost made my top ten best books list.
One Day Soon Time Will Have No Place Left to Hide by Christian Kiefer
MY REVIEW
ADD TO GOODREADS
I'm not sure if I've read a more inventive format than this. The story of an installation artist is told as a written out script for a documentary about him. When you first start reading, it's very startling. But once you're able to get into it, it's super interesting.
Three Scenarios in Which Hana Sasaki Grows a Tail by Kelly Luce
MY REVIEW
ADD TO GOODREADS
More stories set in Japan! These aren't creepy like Sequoia Nagamatsu's often were, but they're definitely strange. People grow tails, toasters predict how people die. These are great stories about what it feels like to be an outsider.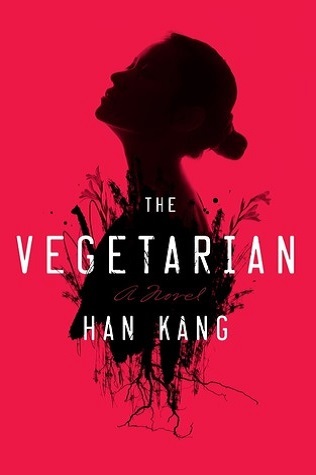 The Vegetarian by Han Kang
MY REVIEW
ADD TO GOODREADS
Despite what so many people said, this was not the most disturbing book ever. It wasn't even really close to that. I can't deny, though, that it was a strange read. A Korean woman stops eating meat, which is not the coolest culturally/socially. She then starts to become more and more plant-like. And there's some weird sex stuff. Not my favorite, but tons of people love it.