You won't have to look very hard.
The year is ending and book publishers are basically in hibernation for the next few weeks before January hits us with a million great books. If you're looking for a holiday gift for the friend who has read everything, they probably won't have time to read these five!!
Whatever Happened to Interracial Love?: Stories by Kathleen Collins
(December 6)
ADD TO GOODREADS
Now available in Ecco's Art of the Story series: a never-before-published collection of stories from a brilliant yet little known African American artist and filmmaker—a contemporary of revered writers including Toni Cade Bambara, Laurie Colwin, Ann Beattie, Amy Hempel, and Grace Paley—whose prescient work has recently resurfaced to wide acclaim

Humorous, poignant, perceptive, and full of grace, Kathleen Collins's stories masterfully blend the quotidian and the profound in a personal, intimate way, exploring deep, far-reaching issues—race, gender, family, and sexuality—that shape the ordinary moments in our lives.

In "The Uncle," a young girl who idolizes her handsome uncle and his beautiful wife makes a haunting discovery about their lives. In "Only Once," a woman reminisces about her charming daredevil of a lover and his ultimate—and final—act of foolishness. Collins's work seamlessly integrates the African-American experience in her characters' lives, creating rich, devastatingly familiar, full-bodied men, women, and children who transcend the symbolic, penetrating both the reader's head and heart.
The Wood for the Trees: One Man's Long View of Nature by Richard Fortey
(December 6)
ADD TO GOODREADS
From one of our greatest science writers, this biography of a beech-and-bluebell wood through diverse moods and changing seasons combines stunning natural history with the ancient history of the countryside to tell the full story of the British landscape.

'The woods are the great beauty of this country… A fine forest-like beech wood far more beautiful than anything else which we have seen in its vicinity' is how John Stuart Mill described a small patch of beech-and bluebell woodland, buried deeply in the Chiltern Hills and now owned by Richard Fortey. Drawing upon a lifetime of scientific expertise and abiding love of nature, Fortey uses his small wood to tell a wider story of the ever-changing British landscape, human influence on the countryside over many centuries and the vital interactions between flora, fauna and fungi.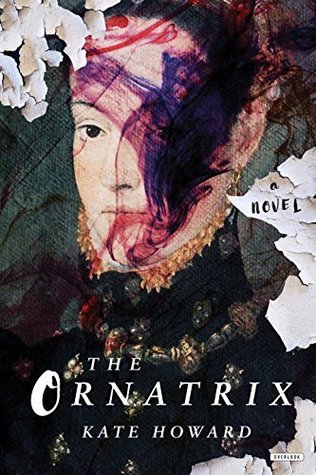 The Ornatrix by Kate Howard
(December 6)
ADD TO GOODREADS
Cursed from birth by the bird-shaped blemish across her face, Flavia spends much of her life hidden from the outside world. Lonely and alienated even from her family, she sabotages her sister's wedding in a fit of jealous rage and is exiled to serve in the convent of Santa Giuliana. Soon she finds that another exile dwells in the convent: a former Venetian courtesan named Ghostanza whose ostentatious appearance clashes with the otherwise austere convent and sparks gossip throughout the town. When Ghostanza claims Flavia as her ornatrix—her personal hairdresser and handmaid—Flavia is pulled into a world of glamor and concealment where admiration is everything and perfection is the ultimate, elusive goal. And she soon finds that with beauty in her grasp, in the form of the poisonous but stunning white lead cerussa, Flavia will do anything to leave her marked face behind.
A Woman Looking at Men Looking at Women: Essays on Art, Sex, and the Mind by Siri Hustvedt
(December 6)
ADD TO GOODREADS
A compelling and radical collection of essays on art, feminism, neuroscience, psychology, and philosophy from prize-winning novelist Siri Hustvedt, the acclaimed author of The Blazing World and What I Loved.

Siri Husvedt has always been fascinated by biology and how human perception works. She is a lover of art, the humanities, and the sciences. She is a novelist and a feminist. Her lively, lucid essays in A Woman Looking at Men Looking at Women begin to make some sense of those plural perspectives.

Divided into three parts, the first section, "A Woman Looking at Men Looking at Women," investigates the perceptual and gender biases that affect how we judge art, literature, and the world in general. Among the legendary figures considered are Picasso, De Kooning, Jeff Koons, Louise Bourgeoisie, Anselm Kiefer, Susan Sontag, Robert Mapplethorpe, the Guerrilla Girls, and Karl Ove Knausgaard.

The second part, "The Delusions of Certainty," is about the age-old mind/body problem that has haunted Western philosophy since the Greeks. Hustvedt explains the relationship between the mental and the physical realms, showing what lies beyond the argument—desire, belief, and the imagination.

The final section, "What Are We? Lectures on the Human Condition," discusses neurological disorders and the mysteries of hysteria. Drawing on research in sociology, neurobiology, history, genetics, statistics, psychology, and psychiatry, this section also contains a profound and powerful consideration of suicide. - I had to post the vast majority of this long description, just because it sounds SO INTERESTING. Also, best title.
Lumberjanes, Vol 5: Band Together by Noelle Stevenson
(December 16)
ADD TO GOODREADS
The Lumberjanes meet rock n' roll mermaids!

Excited for the annual Bandicoot Bacchanal, Ripley recruits her friends to help her get ready for the dance. But before the Lumberjanes know it, something mysterious begins to bubble to the surface of the lake near camp! Will the Lumberjanes be able to bring peace to the lake in time for the Bacchanal? - Oh god, this release will make me 2 volumes behind.
What book are you looking forward to this December? Probably no book, because there are basically no books.