There are a whole bunch of books I hear about that look amazing, but realistically I'm not going to read them all. That means they may never be mentioned on Outlandish Lit, which is so tragic. Every week I'll introduce you to a few books that caught my eye and some interesting bookish links.

Already Out
The Subsidiary by Matías Celedón
ADD TO GOODREADS
In the subsidiary offices of a major Latin American corporation, the power suddenly goes out: the lights switch off; the doors lock; the phone lines are cut. The employees are trapped in total darkness with only cryptic, intermittent announcements dispatched over the loud speaker, instructing all personnel to remain at their work stations until further notice.

The Subsidiary is one worker's testimony to what happens during the days he spends trapped within the building's walls, told exclusively—and hauntingly—through the stamps he uses to mark corporate documents.

Hand-designed by the author with a stamp set he bought in an bookstore in Santiago, Matías Celedón's The Subsidiary is both an exquisite object and a chilling avant-garde tale from one of Chile's rising literary stars.
This is a GREAT looking book. There's rarely more than a sentence per page, and the stamping is very effective. I think I'll start this one immediately because it shouldn't take more than 20 minutes to read.
Ninefox Gambit by Yoon Ha Lee
Captain Kel Cheris of the hexarchate is disgraced for using unconventional methods in a battle against heretics. Kel Command gives her the opportunity to redeem herself by retaking the Fortress of Scattered Needles, a star fortress that has recently been captured by heretics. Cheris's career isn't the only thing at stake. If the fortress falls, the hexarchate itself might be next.




Cheris's best hope is to ally with the undead tactician Shuos Jedao. The good news is that Jedao has never lost a battle, and he may be the only one who can figure out how to successfully besiege the fortress.




The bad news is that Jedao went mad in his first life and massacred two armies, one of them his own. As the siege wears on, Cheris must decide how far she can trust Jedao–because she might be his next victim.
If I ever have my own craft room, I'm calling it the Fortress of Scattered Needles.
Ghostland: An American History in Haunted Places by Colin Dickey
ADD TO GOODREADS
Colin Dickey is on the trail of America's ghosts. Crammed into old houses and hotels, abandoned prisons and empty hospitals, the spirits that linger continue to capture our collective imagination, but why? His own fascination piqued by a house hunt in Los Angeles that revealed derelict foreclosures and "zombie homes," Dickey embarks on a journey across the continental United States to decode and unpack the American history repressed in our most famous haunted places. Some have established reputations as "the most haunted mansion in America," or "the most haunted prison"; others, like the haunted Indian burial grounds in West Virginia, evoke memories from the past our collective nation tries to forget.

With boundless curiosity, Dickey conjures the dead by focusing on questions of the living--how do we, the living, deal with stories about ghosts, and how do we inhabit and move through spaces that have been deemed, for whatever reason, haunted? Paying attention not only to the true facts behind a ghost story, but also to the ways in which changes to those facts are made--and why those changes are made--Dickey paints a version of American history left out of the textbooks, one of things left undone, crimes left unsolved.
Helloooooo, perfect book for me.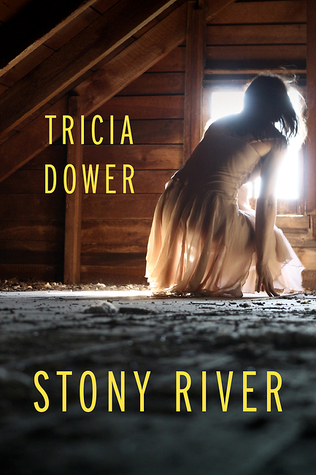 Stony River by Tricia Dower
ADD TO GOODREADS
"Dower is a masterful storyteller" (Globe and Mail) whose "sinister imagery and crisp, evocative prose" (Billie Livingston) make Stony River a page-turner with a strong message for current times. From its deceptively innocent beginning—two young teens exploring the riverbank and spying on "Crazy Haggerty's" house—through the intertwining storylines of paganism, murder, and sexual violence, this tale shows us small-town dysfunction and the dangers of ignoring the threats to women. The central mystery, inspired by the crimes of Robert Zarinsky as documented by Robin Gaby Fisher and Judith Lucas in Deadly Secrets (Newark Star-Ledger 2008), keeps the reader guessing until almost the very end, when the frightening truth is revealed.
Sounds very unsettling and I already want to know what happens!!
I don't have any links this time around. I haven't really interneted. Our car got totaled. Talk to you on Monday!!
What books did you hear about this week?