Aloha, book nerds. The first week of August is done now and alreadya bunch of interesting books have come out.
I'm in Hawaii now for ~who knows how long~ so I don't have access to my copies of these new books. But I can dream about them from afar as I sit in the ocean and try not to get eaten by sharks. Fill up your TBR list with some new books for the tail end of summer reading!
Moonstone: The Boy Who Never Was by Sjon
(August 2)
ADD TO GOODREADS
Máni Steinn is queer in a society in which the idea of homosexuality is beyond the furthest extreme. His city, Reykjavik in 1918, is homogeneous and isolated and seems entirely defenseless against the Spanish flu, which has already torn through Europe, Asia, and North America and is now lapping up on Iceland's shores. And if the flu doesn't do it, there's always the threat that war will spread all the way north. And yet the outside world has also brought Icelanders cinema! And there's nothing like a dark, silent room with a film from Europe flickering on the screen to help you escape from the overwhelming threats--and adventures--of the night, to transport you, to make you feel like everything is going to be all right. For Máni Steinn, the question is whether, at Reykjavik's darkest hour, he should retreat all the way into this imaginary world, or if he should engage with the society that has so soundly rejected him. - Sjon is so interesting, and I'm excited to see anything he does. I was very enchanted by The Blue Fox.
The Fire This Time by Jesmyn Ward
(August 2)
ADD TO GOODREADS
In light of recent tragedies and widespread protests across the nation, The Progressive magazine republished one of its most famous pieces: James Baldwin's 1962 "Letter to My Nephew," which was later published in his landmark book, The Fire Next Time. Addressing his fifteen-year-old namesake on the one hundredth anniversary of the Emancipation Proclamation, Baldwin wrote: "You know and I know, that the country is celebrating one hundred years of freedom one hundred years too soon."

Award-winning author Jesmyn Ward knows that Baldwin's words ring as true as ever today. In response, she has gathered short essays, memoir, and a few essential poems to engage the question of race in the United States. And she has turned to some of her generation's most original thinkers and writers to give voice to their concerns. - Important.
The Hike by Drew Magary
(August 2)
ADD TO GOODREADS
When Ben, a suburban family man, takes a business trip to rural Pennsylvania, he decides to spend the afternoon before his dinner meeting on a short hike. Once he sets out into the woods behind his hotel, he quickly comes to realize that the path he has chosen cannot be given up easily. With no choice but to move forward, Ben finds himself falling deeper and deeper into a world of man-eating giants, bizarre demons, and colossal insects.

On a quest of epic, life-or-death proportions, Ben finds help comes in some of the most unexpected forms, including a profane crustacean and a variety of magical objects, tools, and potions. Desperate to return to his family, Ben is determined to track down the "Producer," the creator of the world in which he is being held hostage and the only one who can free him from the path.
War Porn by Roy Scranton
(August 2)
ADD TO GOODREADS
"War porn," n. Videos, images, and narratives featuring graphic violence, often brought back from combat zones, viewed voyeuristically or for emotional gratification. Such media are often presented and circulated without context, though they may be used as evidence of war crimes.

War porn is also, in Roy Scranton's searing debut novel, a metaphor for the experience of war in the age of the War on Terror, the fracturing and fragmentation of perspective, time, and self that afflicts soldiers and civilians alike, and the global networks and face-to-face moments that suture our fragmented lives together. In War Porn three lives fit inside one another like nesting dolls: a restless young woman at an end-of-summer barbecue in Utah; an American soldier in occupied Baghdad; and Qasim al-Zabadi, an Iraqi math professor, who faces the US invasion of his country with fear, denial, and perseverance. As War Porn cuts from America to Iraq and back again, as home and hell merge, we come to see America through the eyes of the occupied, even as we see Qasim become a prisoner of the occupation. Through the looking glass of War Porn, Scranton reveals the fragile humanity that connects Americans and Iraqis, torturers and the tortured, victors and their victims.
Kojiki by Keith Yatsuhashi
(August 2)
ADD TO GOODREADS
When eighteen year old Keiko Yamada's father dies unexpectedly, he leaves behind a one way ticket to Japan, an unintelligible death poem about powerful Japanese spirits and their gigantic, beast-like Guardians, and the cryptic words: "Go to Japan in my place. Find the Gate. My camera will show you the way."

Alone and afraid, Keiko travels to Tokyo, determined to fulfil her father's dying wish. There, beneath glittering neon signs, her father's death poem comes to life. Ancient spirits spring from the shadows. Chaos envelops the city, and as Keiko flees its burning streets, her guide, the beautiful Yui Akiko, makes a stunning confession – that she, Yui, is one of a handful of spirits left behind to defend the world against the most powerful among them: a once noble spirit now insane. Keiko must decide if she will honour her father's heritage and take her rightful place among the gods. - Just heard about this book and because it's Japan-y, I obviously had to include it.
Textbook Amy Krouse Rosenthal by Amy Krouse Rosenthal
(August 9)
ADD TO GOODREADS
In the ten years since the publication of her beloved, groundbreaking Encyclopedia of an Ordinary Life, #1 New York Times bestselling author Amy Krouse Rosenthal has been quietly tinkering away. Using her distinct blend of nonlinear narrative, wistful reflections, and insightful wit, she has created a modest but mighty new work.

Why the title T​extbook Amy Krouse Rosenthal?​

• Because the book is organized into chapters with classic subject headings such as Social Studies, Music, Language Arts, Math, etc. • Because textbook ​is an expression meaning "quintessential," as in, Oh, that wordplay and unconventional format is so typical of her, so textbook Amy. • Because for the first time ever, readers can further engage with a book via text messaging. • Because if an author's previous book has E​ncyclopedia i​n the title, following it up with a ​Textbook would be rather nice. Not exactly a memoir, not just a collection of observations, Textbook Amy Krouse Rosenthal is an exploration into the many ways we are connected on this planet and speaks to the awe, bewilderment, and poignancy of being alive. - I haven't read Amy Krouse Rosenthal before, but I'm SO intrigued by the weird format of this book.
The Last Days of New Paris by China Mieville
(August 9)
ADD TO GOODREADS
THE LAST DAYS OF NEW PARIS is an intense and gripping tale set in an alternative universe: June 1940 following Paris' fall to the Germans, the villa of Air-Bel in Marsailles, is filled with Trotskyists, anti-fascists, exiled artists, and surrealists. One Air-Bel dissident decides the best way to fight the Nazis is to construct a surrealist bomb. When the bomb is accidentally detonated, surrealist Cataclysm sweeps Paris and transforms it according to a violent, weaponized dream logic. - This one doesn't quite seem like my kind of book, but it's China Mieville, the god of strange who I love, so here I am.
Riverine: A Memoir from Anywhere But Here by Angela Palm
(August 16)
ADD TO GOODREADS
Angela Palm grew up in a place not marked on the map, her house set on the banks of a river that had been straightened to make way for farmland. Every year, the Kankakee River in rural Indiana flooded and returned to its old course while the residents sandbagged their homes against the rising water. From her bedroom window, Palm watched the neighbor boy and loved him in secret, imagining a life with him even as she longed for a future that held more than a job at the neighborhood bar. For Palm, caught in this landscape of flood and drought, escape was a continually receding hope.

Though she did escape, as an adult Palm finds herself drawn back, like the river, to her origins. But this means more than just recalling vibrant, complicated memories of the place that shaped her, or trying to understand the family that raised her. It means visiting the prison where the boy that she loved is serving a life sentence for a brutal murder. It means trying to chart, through the mesmerizing, interconnected essays of Riverine, what happens when a single event forces the path of her life off course. - GRAYWOLF!
Obelisk Gate (The Broken Earth #2) by N.K. Jemisin
(August 16)
ADD TO GOODREADS
THIS IS THE WAY THE WORLD ENDS... FOR THE LAST TIME.

The season of endings grows darker as civilization fades into the long cold night. Alabaster Tenring – madman, world-crusher, savior – has returned with a mission: to train his successor, Essun, and thus seal the fate of the Stillness forever.

It continues with a lost daughter, found by the enemy.

It continues with the obelisks, and an ancient mystery converging on answers at last.

The Stillness is the wall which stands against the flow of tradition, the spark of hope long buried under the thickening ashfall. And it will not be broken. - I still haven't read the first book in this series, but I want to so badly. N.K. Jemisin is perfect and amazing. Shaina Reads raved about the first book here.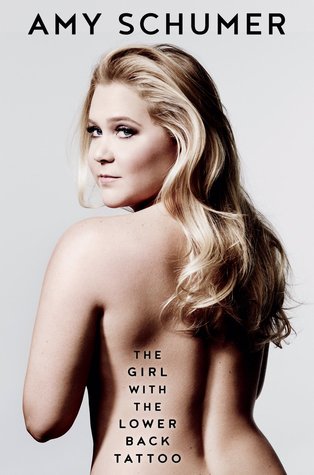 The Girl With the Lower Back Tattoo by Amy Schumer
(August 16)
ADD TO GOODREADS
In The Girl with the Lower Back Tattoo, Amy mines her past for stories about her teenage years, her family, relationships, and sex and shares the experiences that have shaped who she is—a woman with the courage to bare her soul to stand up for what she believes in, all while making us laugh.

Ranging from the raucous to the romantic, the heartfelt to the harrowing, this highly entertaining and universally appealing collection is the literary equivalent of a night out with your best friend—an unforgettable and fun adventure that you wish could last forever. Whether she's experiencing lust-at-first-sight while in the airport security line, sharing her own views on love and marriage, admitting to being an introvert, or discovering her cross-fit instructor's secret bad habit, Amy Schumer proves to be a bighearted, brave, and thoughtful storyteller that will leave you nodding your head in recognition, laughing out loud, and sobbing uncontrollably—but only because it's over. - I can't help myself, I think she's just so funny.
Ghost Talkers by Mary Robinette Kowal
(August 16)
ADD TO GOODREADS
Ginger Stuyvesant, an American heiress living in London during World War I, is engaged to Captain Benjamin Hartshorne, an intelligence officer. Ginger is a medium for the Spirit Corps, a special Spiritualist force.

Each soldier heading for the front is conditioned to report to the mediums of the Spirit Corps when they die so the Corps can pass instant information about troop movements to military intelligence.

Ginger and her fellow mediums contribute a great deal to the war efforts, so long as they pass the information through appropriate channels. While Ben is away at the front, Ginger discovers the presence of a traitor. Without the presence of her fiance to validate her findings, the top brass thinks she's just imagining things. Even worse, it is clear that the Spirit Corps is now being directly targeted by the German war effort. Left to her own devices, Ginger has to find out how the Germans are targeting the Spirit Corps and stop them. This is a difficult and dangerous task for a woman of that era, but this time both the spirit and the flesh are willing… - I really enjoyed Kowal's Forest of Memory, so I'm interested in giving this one a shot even though historical stuff isn't normally my specific wheelhouse.
The Nix by Nathan Hill
(August 30)
ADD TO GOODREADS
Meet Samuel Andresen-Anderson: stalled writer, bored teacher at a local college, obsessive player of an online video game. He hasn't seen his mother, Faye, since she walked out when he was a child. But then one day there she is, all over the news, throwing rocks at a presidential candidate. The media paints Faye as a militant radical with a sordid past, but as far as Samuel knows, his mother never left her small Iowa town. Which version of his mother is the true one? Determined to solve the puzzle—and finally have something to deliver to his publisher—Samuel decides to capitalize on his mother's new fame by writing a tell-all biography, a book that will savage her intimately, publicly. But first, he has to locate her; and second, to talk to her without bursting into tears.

As Samuel begins to excavate her history, the story moves from the rural Midwest of the 1960s to New York City during the Great Recession and Occupy Wall Street to the infamous riots at the 1968 Chicago Democratic National Convention, and finally to Norway, home of the mysterious Nix that his mother told him about as a child. And in these places, Samuel will unexpectedly find that he has to rethink everything he ever knew about his mother—a woman with an epic story of her own, a story she kept hidden from the world. - I heard Nathan Hill read the first two pages of his book and it was AMAZING. It had me completely.
We Are Unprepared by Meg Little Reilly
(August 30)
ADD TO GOODREADS
Ash and Pia's move from Brooklyn to the bucolic hills of Vermont was supposed to be a fresh start—a picturesque farmhouse, mindful lifestyle, maybe even children. But just three months in, news breaks of a devastating superstorm expected in the coming months. Fear of the impending disaster divides their tight-knit rural town and exposes the chasms in Ash and Pia's marriage. Ash seeks common ground with those who believe in working together for the common good. Pia teams up with "preppers" who want to go off the grid and war with the rest of the locals over whom to trust and how to protect themselves. Where Isole had once been a town of old farm families, yuppie transplants and beloved rednecks, they divide into paranoid preppers, religious fanatics and government tools.
What book are you looking forward to this August?