Tsundoku (積ん読) is a great Japanese word for
a pile of books you bought and haven't read.
It's something I relate to greatly, and as I perused my shelves I realized I have a ton of books about or set in Japan, written by Japanese and non-Japanese authors. In less than two weeks I leave for Japan. I've never traveled overseas before, but I always hear about people reading books about or set in where they're going. I am SUPER charmed by that idea. I fully realize that I will potentially read nothing during the two weeks I'm in Japan. There's so much to see and do. But maybe I can read some on the very long flight there, right? Here are the 15 books that make up my Japanese tsundoku. Now I've just got to narrow it down to a more reasonable number.
The Melancholy of Mechagirl by Catherynne M. Valente
ADD TO GOODREADS
This is a collection of short stories and at least one poem that have Japanese themes. I've been meaning to read it FOREVER. Apparently it's rich and verbose in its writing style, and it's got magical realism and sci-fi. So I'm pretty much there. I've only heard good things about Catherynne M. Valente, and it's about time I read something by her. Also, LOOK AT THAT COVER.
Where We Go When All We Were Is Gone by Sequoia Nagamatsu
ADD TO GOODREADS
More short stories! This one came out in May, and it has stories based on Japanese folklore and popular culture. It sounds really fucking strange, look at this: "In "Rokurokubi", a man who has the demonic ability to stretch his neck to incredible lengths tries to save a marriage built on secrets. The recently dead find their footing in "The Inn of the Dead's Orientation for Being a Japanese Ghost". In "Girl Zero", a couple navigates the complexities of reviving their deceased daughter via the help of a shapeshifter. And, in the title story, a woman instigates a months-long dancing frenzy in a Tokyo where people don't die but are simply reborn without their memories." WHAT. Also, the author made this amazing map of where the stories take place. I can't go everywhere, but I HAVE to read a couple where they happened in Tokyo.
Confessions by Kinae Minato
ADD TO GOODREADS
Now, for good measure, here's a creepy thriller. A middle school teacher's young daughter is murdered -- allegedly by two of her own students. It's a dark, twisty novel with alternating perspectives of the same story of this tragedy, and a teacher who wants revenge. I read somewhere that it was for people who liked The Vegetarian, so I'm intrigued in all sorts of ways.
After Dark by Haruki Murakami
ADD TO GOODREADS
All I've read of Murakami is The Elephant Vanishes and Colorless Tsukuru, so I'm not entirely sure where to start with his more famous novels. This one seems good, though, 1. because it's short, and 2. because it's about night owls in Tokyo. All sorts of different people appear, showing a lot of different sides of Japanese life. Apparently it's amazing, and did I mention it's short?
Kafka on the Shore by Haruki Murakami
ADD TO GOODREADS
And here's another apparently amazing Murakami novel! I really don't know which one I should pick between the two. I feel like Kafka on the Shore is more well known, but that doesn't necessarily mean it's better. "A teenage boy, Kafka Tamura, who runs away from home either to escape a gruesome oedipal prophecy or to search for his long-missing mother and sister; and an aging simpleton called Nakata, who never recovered from a wartime affliction and now is drawn toward Kafka for reasons that, like the most basic activities of daily life, he cannot fathom." Plus a talking cat. How am I supposed to decide??
Kokoro by Natsume Soseki
ADD TO GOODREADS
Kokoro means heart. I got this one as a gift from my mom for graduation last year, because it's one of her favorites. It's a melancholy book about isolation and loneliness in the modern age. A lot of people say that it FEELS very Japanese, and I want to know what that means.
The Woman in the Dunes by Kobo Abe
ADD TO GOODREADS
I've only owned this book for a year or so, but it feels like I've been meaning to read it for the greater part of my life. Kobo Abe is known for his weird, original plots, and The Woman in the Dunes sounds CRAZY. With an eerie atmosphere throughout (already sold), the book follows an entomologist who took a day trip to a small village and misses his bus. The next day, he's surrounded by sand dunes and is forced to shovel his way out, with the help of a mysterious woman. It's amazing that I haven't read this yet.
Kitchen by Banana Yoshimoto
ADD TO GOODREADS
Bonus points for being short and having a very 90s cover! Kitchen holds a novella titled "Kitchen" as well as a companion short story. Quiet, quirky and magical, the stories deal with love, grief, and recovering from it all. The pen name Banana Yoshimoto is fantastic and it's enough to convince me to read what she writes.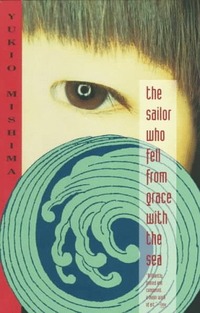 The Sailor Who Fell with Grace from the Sea by Yukio Mishima
ADD TO GOODREADS
Have you ever read the description of a book on some list and known that you need to get it, and proceeded to lowkey check for it in every bookstore you went to? For years? For so long that you forgot what it was about, but you instinctively check for it because that's what you've always done? This is that book for me. And I finally found it used at my bookstore. I don't remember what this book is about and I kind of want to go in not knowing.
Emperor of the Eight Islands by Lian Hearn
ADD TO GOODREADS
I started this first entry in a new fantasy series a couple months ago, but kind of fell out of it because I wasn't in a reading mood. I was also really desperately sick at the time, so my brain was not at full capacity. I'm still super intrigued and want to get back into it. This epic is set in a mythical, medieval Japan which is SO MUCH FUN. There are warriors and gods and ghosts and spirits and all sorts of weird shit. I've heard that another series Hearn wrote a while back is amazing, so I kind of want to start with that one instead, but these are the ones I have sooooo decision made.
Red Girls: The Legend of the Akakuchibas by Kazuki Sakuraba
ADD TO GOODREADS
I'm not normally into multi-generational family sagas, but this one sounds bonkers: "When the Outland People abandoned a baby girl on the outskirts of a village, few imagined that she would grow up to marry into the illustrious Akakuchiba family, much less that she would develop clairvoyant abilities and become matriarch of the illustrious ironworking clan. Her daughter shocks the village further by joining a motorcycle gang and becoming a famous manga artist. The Outlander's granddaughter Toko—well, she's nobody at all. A nobody worth entrusting with the secret that her grandmother was a murderer."
Fat Man and Little Boy by Mike Meginnis
ADD TO GOODREADS
Obviously, Japan's history has a huge influence on their present. The atomic bombings of Hiroshima and Nagasaki have impacted modern society and culture greatly. This debut novel personifies the bombs that were dropped, one named Fat Man and one Little Boy. This sounds like an intense and important read.
The Japan We Never Knew by Keibo Oiwa
ADD TO GOODREADS
This is the only non-fiction book on the list, and it covers a topic I care about and am deeply interested in. Many don't know that Japan has indigenous people. They're a group called the Ainu, who lived on the Northern island of Japan, and they were horribly, horribly mistreated by the Japanese, and continue to be discriminated against though they are now few. Xenophobia continues to be an issue in Japan, and this book has interviews with Ainu people, Koreans (also discriminated against), and some other groups. I think it's important to understand a society's history, especially the dark and complicated bits that aren't fun to talk about.
Azumanga Daioh by Kiyohiko Azuma
ADD TO GOODREADS
On a much lighter note, this is the funniest manga I've ever read. Yes, I've read manga. But you should really trust me on this one, because I have discerning taste. I'm rereading these in Japanese now in an attempt to learn Japanese humor in its language. It's about a group of female students and their teacher. The stories are mostly self contained in single strips or pages, so it's easy to jump in and out. The characters are absolutely ridiculous and it's truly hilarious. Would recommend in either language. Worth trying for sure if you've never read manga and have weird hang ups about it.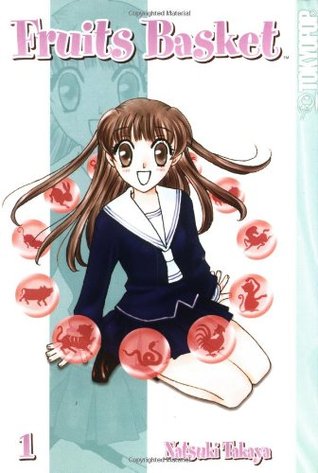 Fruits Basket by Natsuki Takaya
ADD TO GOODREADS
Now, I can't remember if this manga series is good or trash, because I was decidedly less discerning when I read it. I'm going to reread it now in Japanese. All I can remember is that it's about an impossibly optimistic girl whose mother died, but she's taking care of herself. She then gets involved in this household of beautiful men (and a few women) who happen to turn into animals when they're touched by the opposite sex? Because they're gods or something? It's complicated. But it's totally a popcorn read and the ~love connections~ are too good (this coming from someone who thinks friendship is overrated). I distinctly remember nearly tearing up one night as a weird looking middle schooler, because one of the male characters wasn't real and wouldn't ever fall in love with me. CRY BIG ANIME TEARS FOR ME. But it's pretty funny and it's so far relatively easy to read in Japanese (I say 5 pages in).
I have to narrow it down, so what do you think is a must-bring? Am I missing any important books on my list that I should run out and get?? Help!