I'm not normally a person who pays attention to awards, but I just found out about the
Stella Prize
. This is an award for books by female Australian writers of fiction and nonfiction, and it seems SO GREAT.
All the Birds, Singing
by Evie Wyld was on the shortlist this past year, so I'm in. And the only reason that isn't on my list is because I'm going to post a review of it within a week!
I don't know what it is about Australia. I don't know that much about it historically or politically, but I'm trying to learn! The atmosphere of books set in Australia really appeals to me. So I went through all the nominees for this award and picked out some of the books that I really really want to check out.
Summaries from the publishers.
The Night Guest by Fiona McFarlane
"Ruth is widowed, her sons are grown, and she lives in an isolated beach house outside of town. Her routines are few and small. One day a stranger arrives at her door, looking as if she has been blown in from the sea. This woman—Frida—claims to be a care worker sent by the government. Ruth lets her in.
Now that Frida is in her house, is Ruth right to fear the tiger she hears on the prowl at night, far from its jungle habitat? Why do memories of childhood in Fiji press upon her with increasing urgency? How far can she trust this mysterious woman, Frida, who seems to carry with her her own troubled past? And how far can Ruth trust herself?"
Boy, Lost by Kristina Olsson
"
Kristina Olsson's mother lost her infant son, Peter,when he was snatched from her arms as she boarded a train in the hot summer of 1950. She was young and frightened, trying to escape a brutal marriage, but despite the violence and cruelty she'd endured, she was not prepared for this final blow, this breathtaking punishment. Yvonne would not see her son again for nearly 40 years.

Kristina was the first child of her mother's subsequent, much gentler marriage and, like her siblings, grew up unaware of the reasons behind her mother's sorrow, though Peter's absence resounded through the family, marking each one. Yvonne dreamt of her son by day and by night, while Peter grew up a thousand miles and a lifetime away, dreaming of his missing mother."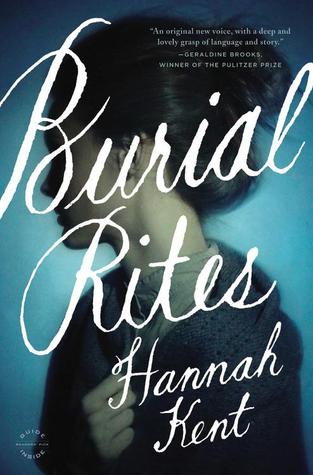 Burial Rites by Hannah Kent
I know everybody already raved about this two years ago, but this is my first time looking into it! Something about the cover .
"Set against Iceland's stark landscape, Hannah Kent brings to vivid life the story of Agnes, who, charged with the brutal murder of her former master, is sent to an isolated farm to await execution.

Horrified at the prospect of housing a convicted murderer, the family at first avoids Agnes. Only Tóti, a priest Agnes has mysteriously chosen to be her spiritual guardian, seeks to understand her. But as Agnes's death looms, the farmer's wife and their daughters learn there is another side to the sensational story they've heard."
Heat and Light by Ellen Van Neerven
"
In this award-winning work of fiction, Ellen van Neerven takes her readers on a journey that is mythical, mystical and still achingly real.

Over three parts, she takes traditional storytelling and gives it a unique, contemporary twist. In 'Heat', we meet several generations of the Kresinger family and the legacy left by the mysterious Pearl. In 'Water', a futuristic world is imagined and the fate of a people threatened. In 'Light', familial ties are challenged and characters are caught between a desire for freedom and a sense of belonging."
In My Mother's Hands by Biff Ward
"
There are secrets in this family. Before Biff and her younger brother, Mark, there was baby Alison, who drowned in her bath because, it was said, her mother was distracted. Biff too, lives in fear of her mother's irrational behaviour and paranoia, and she is always on guard and fears for the safety of her brother. As Biff grows into teenage hood, there develops a conspiratorial relationship between her and her father, who is a famous and gregarious man, trying to keep his wife's problems a family secret. This was a time when the insane were committed and locked up in Dickensian institutions; whatever his problems her father was desperate to save his wife from that fate. But also to protect his children from the effects of living with a tragically disturbed mother."
The Swan Book by Alexis Wright
This one might be TOO weird for me, but I'm very interested in a story about Aboriginals.
"
The Swan Book is set in the future, with Aboriginals still living under the Intervention in the north, in an environment fundamentally altered by climate change. It follows the life of a mute young woman called Oblivia, the victim of gang-rape by petrol-sniffing youths, from the displaced community where she lives in a hulk, in a swamp filled with rusting boats, and thousands of black swans, to her marriage to Warren Finch, the first Aboriginal president of Australia, and her elevation to the position of First Lady, confined to a tower in a flooded and lawless southern city. The Swan Book has all the qualities which made Wright's previous novel, Carpentaria, a prize-winning best-seller. It offers an intimate awareness of the realities facing Aboriginal people; the energy and humour in her writing finds hope in the bleakest situations; and the remarkable combination of storytelling elements, drawn from myth and legend and fairy tale, has Oblivia Ethylene in the company of amazing characters like Aunty Bella Donna of the Champions, the Harbour Master, Big Red and the Mechanic, a talking monkey called Rigoletto, three genies with doctorates, and throughout, the guiding presence of swans.

"
This House of Grief by Helen Garner
I'll give true crime another chance for this!
"
On the evening of 4 September 2005, Robert Farquharson, a separated husband, was driving his three sons home to their mother when his car plunged into a dam. The boys, aged ten, seven, and two, drowned. Was this an act of deliberate revenge or a tragic accident? The court case became Helen Garner's obsession. She was in the courtroom every day of Farquharson's trial and subsequent retrial, along with countless journalists and the families of both the accused and his former wife.

In this utterly compelling book, Helen Garner tells the story of a man and his broken life. At its core is a search for truth that takes author and reader through complex psychological terrain. Garner exposes, with great compassion, that truth and justice are as complex as human frailty and morality."
The Sunlit Zone by Lisa Jacobson
"
The Sunlit Zone is a moving elegy of love and loss, admirable for its narrative sweep and the family dynamic that drives it. A risk-taking work of rare, imaginative power. The Sunlit Zone combines the narrative drive of the novel with the perfect pitch of true poetry. A darkly futuristic vision shot through with bolts of light. Brilliant, poignant, disconcerting. - Adrian Hyland, author of Kinglake 350 and Diamond Dove
This novel in verse, at once magical and irresistible, draws us in to a vivid future. In Lisa Jacobson's telling, the Australian fascination with salt water and sea change is made over anew. Romance holds hands with science and takes to the ocean. - Chris Wallace-Crabbe, author of The Domestic Sublime and By and Large."
What do you think of these Australian books? What sounds good to you?