A lot of my January reading has been catching up on books that I missed in 2015.
And I've also been in a mood of wanting to keep my reading strange and exciting. SO
here are three mini-reviews of very peculiar and often dark books that I read this month.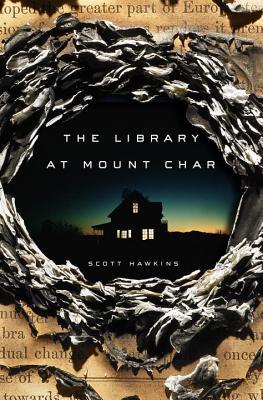 The Library at Mount Char
by Scott Hawkins
Publisher:
Crown. June 2015.
Genre:
Fantasy?? Sort of??
Source:
Library
Pages:
388
ADD TO GOODREADS
BUY FROM INDIEBOUND
BUY FROM BOOK DEPOSITORY
For all intents and purposes, the power of the Library is infinite. Tonight we're going to settle who inherits control of reality.
Ok, I listened to this as an audiobook and I HIGHLY recommend it. It was wildly exciting, nearly impossible to turn off. There were more "what the fuck" moments than I could even count. It is just the most bizarre craziness I've ever heard, and it was so much fun to get sucked into. I don't even know how to describe it, because there are so many facets in addition to it being so unpredictable. Basically there's a group of twelve people who are raised by a cult-y leader named "Father." He takes them to a place called "the library" and they each learn a different discipline. So they're not really a part of the real world until all of a sudden Father goes missing and they're unable to return to the library. And then some crazy shit goes down.
I actually never had any idea what was going to happen. Sometimes it was high fantasy, then, wait a minute, it's a heist. No... a vet drama?? JK, it's just sci fi. BUT WAIT. And so on and so forth. It's funny, but it's also super dark. There's violence (be warned). Objectively, it is not the
best
book ever. But if you want to not know what to expect and have a really fun time in your confusion,
The Library at Mount Char
will totally make your week.
Eileen
by Ottessa Moshfegh
Publisher:
Penguin Press. August 2015.
Genre:
Literary Fiction
Source:
Library
Pages:
272
ADD TO GOODREADS
BUY FROM INDIEBOUND
BUY FROM BOOK DEPOSITORY
Nowadays I often have to leave a room or walk away when a person near to me smells bad. I don't mean the smell of sweat and dirt, but a kind of artificial, caustic smell, usually from people who disguise themselves in creams and perfumes. These highly scented people are not to be trusted.
Eileen is a strange girl and this book is the story of how she disappeared. In her early twenties, she is still living with her father, a manic alcoholic, in their disgusting run-down home. When she gets out of the house, it's to go to her secretarial job at a boys' prison. We get to spend time in the head of this quiet girl where we see all sorts of disturbed thoughts and fantasies. And I LOVE THAT. If you're a fan of
We Have Always Lived in the Castle
, it's a similar first-person quirky/dark feel. Eileen's narration is startling and funny. It was exactly what I wanted to read.
Things seem pretty grim as far as Eileen escaping her present goes. That is, until she meets the beautiful new educator at the prison, Rebecca. Oh man, do I love the dark places this book goes once that happens. It's a sloooow burn and I would not describe this book as a thriller. The novel is probably overly long at the beginning. The tension that builds isn't really in a creepy atmosphere but in that there's so little going on and that makes you anxious. Because you know that isn't going to be forever. I would recommend this book to anybody interested in being trapped in the mind of a strange and dark character for a while.
Not Dark Yet
by Berit Ellingsen
Publisher:
Two Dollar Radio. December 2015.
Genre:
Literary Fiction
Source:
Used Bookstore
Pages:
115
First Line:
Blue foxes are so curiously like stones that it is a matter for wonder.
ADD TO GOODREADS
BUY FROM INDIEBOUND
BUY FROM BOOK DEPOSITORY
With the news reporting soaring food prices and shrinking crops on all continents, the project made sense, even good sense. But he nevertheless felt unsettled about it, like a warning he had received and then forgotten, the shadow of a Kraken passing beneath the surface.
I'll be real, I grabbed this book because of the pretty cover and the Jeff VanderMeer blurb on the back.
Not Dark Yet
is a new novella in the cli-fi (climate fiction) genre. The world's going to shit due to global warming. People are running out of food. The weather's all out of whack. And the main character, Brandon, just needs to get away from it all. So he moves to a remote cabin in the mountains somewhere, leaving his boyfriend behind. This novella jumps around in time a little bit covering a bunch of interesting plot points. An affair with a professor that goes bad, an agricultural project he joins in the mountains, applying to be an astronaut who will live on Mars, some random military stuff, AND MORE.
All of these things are SO interesting and the book had a lot of potential to do all sorts of stuff. Unfortunately, however, Brandon is just not that interesting of a guy. His character is so flat that it's hard to care about any of his (often briefly touched upon) plights. As much as I love concise books, I feel like Ellingsen could've done a lot with more pages. Anyway, I can't mention the other thing I didn't like because it would spoil the whole book. So in short, I really loved most of the stuff that went down in this story, I really super loved what the book was saying (it's so good), but I wasn't blown away with how it was done. If any of this sounds interesting to you, it's worth checking out, if only just to instagram the cover.